From creative director of CULT to international jury of the Black Carpet Awards
Interview with Victoria Adaeze Ejiogu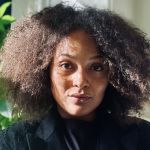 From kicking against social conventions to jumping over spring puddles, without excluding its revolutionary matrix. Amphibians are still statement shoes today. Victoria Adaeze Ejiogu, Creative Director of the brand CULT, told us about the power of this accessory and a brand that has managed to reinterpret it, adapting it to today's world with new values and messages. «CULT was the first Italian brand to introduce the work shoe in 1987 as an extraordinary accessory, a symbol of freedom and non-conformity, making it an icon,» explains CULT creative director Victoria Adaeze Ejiogu. «It is inspired by the 'British' world with its punk and underground aspects. The amphibian is a symbol of transformation, a precursor of gender-neutral style that evolves over time but remains true to itself. Today she is able to dress anyone and represents freedom of expression. I see it as a blank canvas on which the different facets (punk, glam, pop) of a strong and subversive personality can be expressed.» Since 1987, CULT has been synonymous with coltro culture. Generations of young rockers, punks and rebels have walked, pogoed and danced with a pair of CULT. For more than a decade in ZeisExcelsa, a CULT Group company. As Victoria takes the reins as creative director in 2019, she revisits the brand's values and mission. «Modern, current and pioneering, CULT responds to the needs of today by creating a unique and original connotation and appealing to an absolutely heterogeneous audience. We dress a way of life"," our claim "A non-conformist soul that stays that way at any age" CULT's strength is transversality, and there is no more exciting and fun challenge than being able to get into the wardrobe of different people and destinations, united by a spirit that is a certain "attitude" towards life. We celebrate female empowerment by including Italian female artists and rockers. Our woman is conscious, confident, brave and essential at the same time. Our mission is to appeal more and more to a free and authentic audience, always respecting the part of the gender-neutral collection that is part of the brand's DNA. We are on the way to a lifestyle.»
CULT were and are the shoes of those who want to approach life from the gut, those who do not give up and persistently believe in their passions.
Victoria, who split her studies between the European Institute of Design and La Sapienza in Rome, reflects on the difficulties young designers face today.
«I would advise you to study, prepare and acquire a method. Creative work has rules that allow you to respect time and achieve results. Design is problem solving, it means understanding the context in which you are working to achieve tangible results without losing its essence, it is a synergetic mechanism that brings innovation. It is a synergistic mechanism that brings innovation. There is a great satisfaction in seeing your ideas carried in the different contexts of daily life: at a concert, on TV during X-Factor, on celebrities or on the street, because it means it works!» Reflecting on what kind of student she was, she says: «When I studied, I was naturally projected into the conceptual design scene of the Antwerp School or the Japanese designers, and to this day the realities that fascinate me the most are the underground or "niche" designers. I do not lose the soul, which is a natural inclination of mine, combined with a more "poppy" soul, which is the side of me that takes itself less seriously. You have to be interested in it: any stimulus can be a creative insight, an art exhibition, an electronic music festival, a rock concert, a walk through the neighbourhoods of the world's metropolises, so ... Culture, culture, culture!»
One of the most important events of the FW23 fashion season in Milan was undoubtedly the Black Carpet Awards.
Held at the MEET digital cultural centre, the awards ceremony was created by Michelle Ngonmo of the Afro Fashion Association to celebrate and recognise the achievements of overlooked local talent in various fields. «It was exciting to be on the international judging panel for the first ever edition of an event that highlights the excellence of the BIPOC community, in a context where the beauty of diversity was celebrated and amplified by bringing together distinguished emerging and established guests. The participation of institutions in events like this is crucial for cultural and economic development. What each of us can do is commit to practising our profession with the privilege of working with passion and telling our own story that can inspire.» But while the support of these key industry players was greatly appreciated, the most memorable aspect of the evening was the palpable sense of community that emerged among the participants. The ceremony, hosted by Tamu McPherson, consisted of a list of five awards recognising ten leaders of change in entrepreneurship, creativity, culture, community and legacy. «I am blessed to have been born into a family with multiple cultural identities: with an Italian-English mother and a Nigerian father. Being born and raised in the beauty of Rome has influenced my taste and aesthetic. Therefore, I have the great privilege of coming from an absolutely international environment where cultural diversity has always been a very precious value, a source of innovation and creativity. My identity, it is my strength. Each of us is called to work for the community, sharing and enriching our history and our talents. Today, the only possible way is to work together in all aspects of life. I, who am a "team worker", see the community a little like my team, where we are all called to make our personal contribution through a unique and unrepeatable story, for a purpose, a shared vision.»