Belts have become the new clothes
According to Julia Fox and Kim Kardashian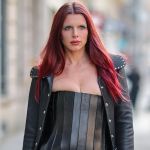 Buckle up. Not between the trouser loops or at the waist to give maxi blazers a tighter fit. Belts are the new raw material of the season. Joined together like scraps of fabric, they become the basis for the creation of tops, minidresses, miniskirts, jackets and challenge the most daring to wear them in their unprecedented form. Leather, denim, plain, colourful, with a classic metal band or snap closure, it does not matter, what counts is the DIY spirit and the sexy attitude that borders on bondage. However, the final style is determined by the wearer of the belt clothes and the creator together.
One of the first to revive the belt was Lucy Orta in 1995. The British-born artist used belts from the second-hand shop Cité de Refuge to create a skirt. Since then, many designers have started to look at this accessory differently and use it as a starting point for their catwalk collections. In the 1990s, Jean Paul Gaultier used it to reinterpret leotards, corsets and mini dresses. For Spring/Summer 1998, for example, he presented a black dress with buckle inserts on the chest inspired by Frida Kahlo's 1944 work The Broken Column, in which the painter addressed her disability and chronic pain, the result of a terrible car accident at the age of 18. However, true Margiela connoisseurs will remember that the brand designed a capsule for H&M that included waistcoats, trousers and jackets handmade from leather belts. Other brands that launched their own declinations of belted clothing included Moschino (FW14), Alexander McQueen (SS11) and in recent seasons Paco Rabanne (SS23), Miu Miu, Diesel, Balenciaga, Alaïa and Hodakova.
One of the biggest admirers of the trend is certainly Julia Fox, who, used to eccentric and DIY outfits, wore no less than three different variations of the trend during the last fashion weeks. She combined her new crimson hair with a minidress made of vertical belts sewn together for the Hodakova show; she wore a very short miniskirt made of belts with a pair of denim cuissardes; and she chose a Diesel look consisting of a belted skirt and three belts side by side as a top. Almost at the same time, Kim Kardashian also wore a set of buckles while visiting the Dolce & Gabbana shop in Milan. Already last summer, she posted a photo of herself on Instagram wearing a mini dress made entirely of leather belts by Balenciaga.