Chanel handbag prices have risen, again
The Maison continues to raise prices, drawing the ire of users on social media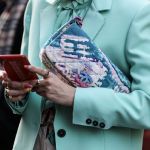 Everything costs so much. We talked about this a few months ago. You only have to go to any shop to notice it, but it's not just the prices of low-cost chains and mid-range brands that are going up, it's the big names in luxury too. According to the analytics and marketing website EDITED, this is a 7 percent increase in 2020 and 25 percent in 2019, affecting women's apparel first with an average price of $3395, followed by It bags. Today, a women's bag from a luxury brand in the United States costs an average of $2475, up 27 percent from 2019. Since the pandemic, Bottega Veneta, Louis Vuitton, Chanel and Gucci have been talking openly about problems related to the production chain, raw material costs, energy costs, international transport, etc., against the backdrop of an inflationary scenario. Thomas Chauvet, luxury analyst at Citi, had already predicted the situation to the Financial Times, pointing out that the trend of rising prices is expected to continue in 2023. This also applies to the prices of "core" handbags from brands such as Chanel and Louis Vuitton, which have already risen by 20 percent or more in the last two years, but will continue to rise during the year, especially in Europe. Philippe Blondiaux, Chanel's chief financial officer, indirectly confirmed that the price increases have become a strategy of resistance in the face of the pandemic crisis to absorb rising production costs and protect profits, but he also spoke of an attempt to harmonise prices worldwide with the aim of "offering the same price everywhere to limit the parallel market."
A look at Chanel's official website shows that the price of the classic medium-sized oversized bag has increased by more than 60 percent since November 2019. If we restrict ourselves to the last year, we find that the small Classic Flap has increased in Europe from €8,450 in 2022 to €9,300 in 2023, the medium from €8,990 to €9,700 and the large from €9,700 to €10,500. We are talking about very high figures for a normal person, but they are probably rather insignificant for those who are used to luxury giants. Nevertheless, videos of users commenting negatively on the price increases are piling up on social media, wondering what justifies them, whether the bag is really worth it in terms of design and quality and whether it would not be better to turn to another brand that offers more prestige for the same price, such as Hermès. There is also a small group of people who wonder if the Maison does not want to make the Classic Flap its own version of the Hermès Birkin, a luxury item made of high-quality materials, a status symbol for which many are willing to endure the long waiting list and spend insane amounts of money.
"We invest in our bags to make them even better, using the best materials and the latest technology to ensure they meet the CSR (Corporate Social Responsibility, ed.) shift we want to reflect in them We are significantly increasing the perceived quality of these bags. [...] We have a valuable product that requires commitment and real investment to ensure its existence for the next 20 years."
Said Bruno Pavlovsky, explaining last summer's price increases, but forgetting to mention that the price rise was partly due to Chanel's desire to become ever more exclusive. One can wonder how far the brand's buyers are willing to pay for an item for which they would have paid much less until recently. If prices are so high and will continue to rise, why not turn to the second-hand market? Or does the fact that luxury is becoming even more elitist make it even more desirable? Will the Birkin effect also work for Chanel?