Being fashionable means taking risks: interview with the founders of ROTATE
We spoke with Jeanette Friis and Thora Valdimars at their show at Copenhagen Fashion Week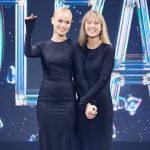 Sometimes a new future can be born from a click between two colleagues. Rotate Birger Christensen is a Scandinavian brand created in 2018 by Jeanette Friis and Thora Valdimars, two influencers with a shared vision of fashion and life that became a reality thanks to investments by the company Birger Christensen. If today the brand's eclectic garments are traveling the world thanks to an international clientele and are also available for purchase in the Metaverse, it is because they tell a story of empowerment based on the pleasure of asserting one's personality through consciously glamorous style. We asked the founders to tell us more about their journey, the new collection they will present on Feb. 2 at Copenhagen Fashion Week, and the plans to expand ROTATE's community on different platforms, including also South Korean 'ifland' and TikTok.
«Each collection is a part of our journey. Although each season evolves and changes, we are always true to ROTATE's message of offering bold, sexy, exciting garments that make the wearer feel emancipated, regardless of gender» tell us the founders. The desire to always have impactful but also affordable garments available to wear made Jeanette and Thora identify a gap in their closets, but more importantly in the market. Aided by both of their strong followings on Instagram, ROTATE's imagery has grown on the platform, becoming increasingly desirable through the years. ROTATE's colors, textures, campaign, and social images tell a story about the boldness of partywear present in everyday life. Indeed, in the AW23 collection, the creative directors present a kaleidoscope of silhouettes and references from the 1980s, 1990s, and early 2000s to communicate a sense of freedom and sensuality typical of glam-rock icons: «In those years, being fashionable meant taking risks, being bolder, bigger, stronger, and this is something we want to inject into the ROTATE aesthetic.»
The desire to wear garments to be party-ready at all times is typical of the post-pandemic period, but the brand has not forgotten the forced hiatus of the past two years. After exploring loungewear to stay close to its clientele with the ROTATE Sunday collection launched in 2020, ROTATE's designs have taken on more simple lines, which now coexist with sequins and partywear textures as seen in the collection that showed at the Martha Christensens Arena on Feb. 2. The brand's thoughts always turn to its community in creating collections that reach a broad audience: «Today fashion is personal, less trend-based. That's why we include all genders, ethnicities, and sizes on our runways, although the garments may be extremely feminine, ROTATE is not just about women» the founders tell about the inclusivity they want to communicate through their collections.
Responding to the needs of the community is easy for a digital-native brand that has always been committed to digital innovation: if in 2018 Instagram was the brand's primary litmus test for gleaning feedback, today the multichannel nature of social media creates even more opportunities to tell its story. That's why ROTATE decided to establish itself in the Web3 and continue to expand its community, beginning in August 2023 for Copenhagen Fashion Week a journey into the Metaverse with an initial NFT dress launch -sold in minutes- combined with an interactive AR filter that allowed guests to try on a look from the show. The Web3 exploration journey continues this winter with an exclusive partnership with SK Telecom's "ifland," South Korea's leading Metaverse social platform, for which the brand created a line of avatar skins available to users. «We are grateful to have established ROTATE on the world stage, and so we felt the need to continue to be a leading fashion house in the digital market. We are fortunate to have a fantastic Social Media and Marketing team that is on top of new trends and is always one step ahead» say the founders, who are included in the creative line of content produced on the brand's TikTok profile, which is categorized with the +300K views hashtag #makeitrotate, and continues to grow the success of this powerful vision.