The evolution of knitwear
Since the 18th century invention of the loom, knitwear has come a long way and will continue to do so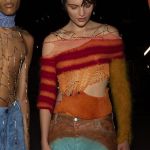 Knitwear is the future. And to think that it all began in the 17th century at the hands of Englishman William Lee, the first to invent the knitting loom. But today it is the designers themselves who are giving knitwear back its importance. On the spring-summer 2023 catwalks, designers have given us an increasingly new and unexpected vision of "knitwear". Not only through new processing techniques, but also through subliminal messages of non-conformist strength and political denunciation. All this, in fashion, began with Missoni Pussy Hat in 2017, worn not only by the models on the catwalk but also by the guests who received one for the occasion. The meaning of the Italian fashion label was to bring awareness to the Pussyhat movement, born in the same year by the women involved in the Women's March, in the United States, thanks to the event initiated by Krista Suh and Jayna Zweiman, who created these pink hats to wear at the march against racism and homophobia (and played with two adjectives used by Trump at the time in one of his speeches, pussy and cat). Since that time, knitwear has not been so, rather it has taken on the burden of launching new positive messages in response to something negative.
But there is a different, no less interesting opinion. According to WWD, the knitting boom is also due to the pandemic, following the lifestyle dubbed by Americans as the new "work-from-home". After all, many handmade gestures came back into vogue during the lockdown months, including knitting, because people wanted to be busy and have a purpose. One example comes from Tom Daley, the award-winning knitter who created his own knitwear brand Made With Love, and who showed on Instagram how he made his jumpers. But knitwear also played a leading role in the political scene during this period. Just think of the completely unexpected success of the mittens worn by Bernie Sanders (given to him by a teacher) during Biden's inauguration ceremony. Or the corgi dogs created in miniature for Queen Elizabeth II's Platinum Jubilee, with the charity initiative #WheresWInnie created by the all-female non-profit organisation The Women's Institute, with the aim of educating on sustainability. Sustainability that started with the autumn-winter 2021 Feels like Prada collection, which paved the way for what is now the relationship between our conception of fabric and upcycling, as well as a means of laying bare our thoughts, conceiving knitwear as our second skin. In fact, many brands, especially the most emerging ones, have focused on the importance of recycling such a precious material. Quoting designer Gilles Mendel, "knitwear is dynamic. It can be feminine and sensual, or classic and timeless". In short, gone are the days of simple, casual jumpers. If we take the PE23 collections as an example, the genderfluid aesthetic takes over. In Italy, Marco Rambaldi has revisited the concept of knitwear with colourful handmade crochet, while ANDREĀDAMO has chosen knitwear as his tool against prejudice. Collina Strada, in collaboration with the Italian Vitelli, has chosen to use regenerated fibres, Diesel plays with the abstractness of fabrics and Coperni is experimenting with a spray yarn concept that, thanks also to Bella Hadid, has intrigued not only the guests of the fashion show but the whole world.
In short, the value of craftsmanship is being rediscovered. Precisely that concept that Mrs Weasley from Harry Potter has been trying to instil in our heads for years, thanks to her jumpers and scarves that she used to make every year for her son Ron and his friends, personalising them with their initials embroidered in block letters. Then there was Mark Darcy, from Bridget Jones, who made us smile wearing a "tacky" winter jumper. An English myth that has depopulated thanks to Christmas Jumper Day, an event that takes place every December - that of wearing kitschy jumpers with a Christmas theme - and that was born in the early 2000s in collaboration with Save the Children with a solidarity theme. But in the present day, it was Harry Styles who convinced us that knitting is still cool, thanks to a Lanvin sheep waistcoat that reminded us so much of the jumper brought to the fore in the 1980s by Lady Diana.
Craftcore is back in vogue with new messages and regenerative concepts in favour of the environment, which, with 3D technology, is also about to reach the moon thanks to the pressurised uniforms for astronauts developed by Shima Seiki with its Knit BioSuit patent. Gigi Hadid herself thinks so, so much so that she has made a cashmere brand out of it, Guest In Residence, which must last a long time, as our grandmothers used to teach us when they gave us a nice hand-knitted jumper to wear for as long as possible (not wearing it to watch TV, of course). A concept that is increasingly hot even among fashion schools, such as Central Saint Martins in London and Polimoda in Florence, where students are trying to develop the most innovative projects to give new life to wool & Co. Wool which, according to The Woolmark Company may be the beginning of a more circular fashion. This fabric, unlike the synthetic fibres used by the fast market, is biodegradable, with a life of more than 30 years, withstanding every wash and regeneration, thus reducing the need to produce so many garments that are then discarded en masse every year. Also interesting is the work done by Peter Do, who used 22 merino wool garments to create 365 looks (like: we only need a little to be cool every single day of the year). In conclusion, knitwear has evolved. We just have to be responsible in our purchasing too, even wearing them to give our message.