Miuccia Prada's message in Miu Miu SS23
"I am not anti-luxury, but I am anti-ostentation"
In the hypostyle hall of the Palais d'Iéna, in a setting created by studio Amo in collaboration with artist Shuang, Miu Miu SS23 collection goes on stage. Miuccia Prada, as in recent seasons, continues to reread and deconstruct the codes of Y2K fashion, flirting with sensuality, utilitarianism, and bourgeois codes. On the runway, worn by a cast that includes FKA Twigs, Bella Hadid, Emily Ratajkowski, Miranda July and Ethel Cain, we find low-waisted miniskirts with frayed hems and inch-length sweaters; pleated skirts; overlapping plush minidresses; blouses; tops so ultra cropped that they evolve into simple brassieres; tailored jackets and coats that alternate technical fabric, leather and washed denim. Between overlays, bling-bling details and transparencies, the real must-have accessory are the pockets that enrich each garment, imitating a sort of saddlebag or fanny pack: from pleated skirts to minis, from leather jackets to denim longuettes. While hybrid footwear stands out on the feet, combining the shape of soft, knee-high leather boots with the toe of a flip-flop.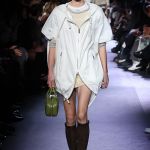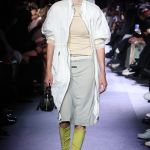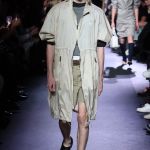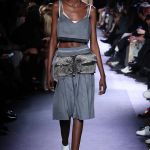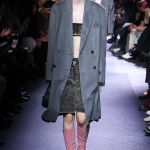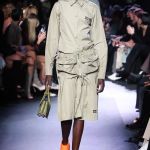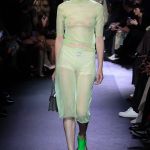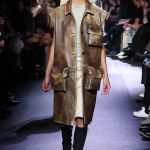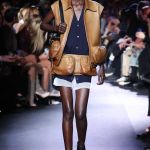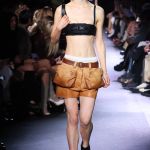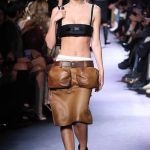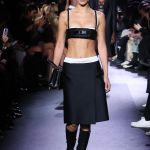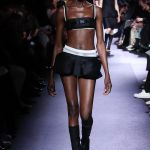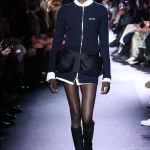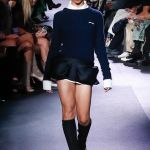 "This is not an easy time to create fashion. For this collection, I wanted to explore the purpose of fashion, its reason. Its utility in society and culture today. Fashion can have a meaning and a reason beyond utility: to decorate, to attract. But it is important that fashion works. I am not anti-luxury, but I am anti-ostentation."
Miuccia Prada explains in note, a concept that seems perfectly summed up in the look that closes the show. FKA Twigs, with her soap and water face and hair pulled back in braids, walks the runway wearing a micro skirt embellished with maxi pockets, paired with a blue ribbed sweater from which the collar and cuffs of a white shirt peek out. Beautiful, in her minimal but ultra-contemporary outfit, she looks like one of the many school girls we see on TikTok, an example of elegance that, thanks to Miu Miu's touch, manages to destabilize even the most classic of looks. If "fashion is a means of translating a reaction to reality into material form," Miu Miu is Miuccia Prada's response to the world around us, a field of reflection on the real in which divertissement and utilitarianism collide to dress today.