Fashion notes - Brief guide to Upcycling
The no-waste revolution in the fashion business envisions a viable and sustainable future of fashion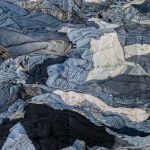 The direction that the fashion industry needs to take can start from its own waste through 'upcycling. Implying a decrease in production and at the same time a return to the enhancement of personal style, upcycling is a strong method that keeps alive the uniqueness of handmade products with limited availability of the same material and continues to evolve. Here is a guide to learn more about it, understand it and become familiar with its languages, understand how it is communicated by both brands and creators on TikTok, and which brands in the Italian and global scene to direct our radar to.
What is Upcycling?
Upcycling is an overarching term that encompasses a broad spectrum of techniques involving the reuse of existing products to create something new and is presented as an evolution and optimization of the practice of recycling. If downcycling is the transformation of materials through the use of energy-requiring chemical or mechanical procedures to create new, often inferior products, upcycling stands at its exact opposite.
The technique focuses on increasing the value of the new product without resorting to any engineering process and stems from a reinterpretation of the downcycling process contextualized to architecture, in which products with still-usable raw materials were destroyed instead of optimized. The very first use of the term in this sense is attributed to Reiner Pilz, a mechanical engineer at Pilz GmbH & Co. who expounds on his method in a 1994 article, "What we need is upcycling, in which old products are given more value, not less." In fashion, upcycling reinvents garments and accessories that undergo reconditioning, redevelopment, customization, deconstruction and reconstruction to become upgrades of what they have been, elevated above all by their uniqueness.
The exact opposite of fast-fashion, upcycling brands put materials and products back on the market that already have a history of their own, creating one-of-a-kind pieces that simultaneously counteract overproduction and standardization.
When was upcycling born?
The first famous manifestations of upcycled production in the fashion industry are those dating back to the late 1980s by Martin Margiela, who emphasizes the design and production process behind the creation of a finished garment in the garment itself. The Spanish designer started a revolution for the industry, bringing his deconstructed designs to the runway with unfinished hems, exposed seams, torn fabrics, and raw cuts. An iconic and unwitting pioneer of the upcycling technique in contemporary fashion, Martin Margiela reuses fabric remnants with the patchwork technique, bringing the concept of no-waste to a world that did not yet know how to question sustainability.
Upcycling brands to watch out for
The variety of techniques that can fall under the definition of upcycling is wide, the common thread always being reuse. Depending on personal interpretations of upcycling, each brand acquires a specific identity and uniqueness: flea markets, vintage stores and grandparents' closets are a valuable source where to find items to deconstruct and reassemble, as Simon Cracker, Garbage core and Atelier Florania show us, or to decorate and personalize with embroidery and hand-painting as DADA MAX and Giglio Tigrato do. The reconditioning of wools and yarns is the no-waste choice of brands like Vitelli and VAISSEAU for ex-novo knitwear production, while others opt to recover remnants from couture houses and textile industry like Dennj and Maison Cleo. Not just fashion business scraps, some designers choose to search for their materials in other sectors such as RAEBURN who salvages discarded military uniforms and Bal Design who creates exclusive handbags using basketballs. Among the brands that make sustainability and ethics in their work their manifesto are Fade Out Label, Rifò and Atelier and Repairs, true creative hubs engaged on different fronts to start a revolution in the canonical patterns on which fashion moves.
The fashion of mending from an anti-waste and upcycle perspective has also exploded on Tik Tok, with the boom of the hashtag #SewingTiKTok with which people share hacks for making or mending discarded clothes. Not only ready-to-wear brands but also independent designers who become webcreators and represent the new frontier for spreading sustainable fashion: @utopia.us revisits and twists the look of vintage designer bags or creates completely new ones using all kinds of salvaged materials or @ariellesidney_ who with her styling tips optimizes the use of discarded clothes and creates exclusive designs using makeshift objects such as shopping bags from IKEA. The many new avenues that the culture of recycling opens up to show how a revolution in fashion systems is possible and is in some ways already underway especially in Generation Z, which is sensitive to the issue of sustainability and ready to change the habits of the past.