Who is Angela Kelly, the woman who dressed Elizabeth II
The royal dresser who made Her Majesty's style iconic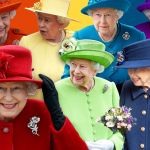 If she had a choice she probably would have worn just a sweater, a blouse, a tweed skirt, a Barbour, a Hermès head scarf and a pair of rain boots, the country woman look she routinely sported at Balmoral, where she was free to play with her corgis, go horseback riding or whizz around in her Land Rover. But more is expected of a queen. So Elizabeth II went down in history, at least in fashion history, for her knee-length dresses declined in every shade of the Pantone scale, strictly worn with a matching overcoat and cap. Behind those strict, always-the-same outfits that helped make her not only instantly recognizable, but iconic, was Angela Kelly for a quarter century. From 1994 to the day of the sovereign's death, Kelly was part of Her Majesty's staff, taking care of her wardrobe and serving as her lady-in-waiting until she held the official position of "Personal Assistant, Adviser and Curator to Her Majesty The Queen."
"We are two ordinary women. We discuss clothes, makeup, jewelry, but we also have a lot of fun together. The Queen has a great sense of humor and is a great impersonator."
She said in a rare interview with The Telegraph downplaying her relationship with the influential employer, but the truth is that over time a very close relationship of mutual trust has developed between the two women. It is Angela who Elizabeth relies on for style advice. It is she whom she has included in the very small entourage with whom she has shared the lockdown. And Angela is also the one person she wanted by her side when she was strongly advised a few months ago to hire someone who would live with her at Windsor Castle and could help her with everyday tasks.
How did the daughter of a nurse and a Liverpool crane operator, a Catholic with three husbands, as many divorces behind her and three children, become the Queen of England's closest confidante? The answer can already be guessed from the first meeting between the two. One has to go back a few decades. It is 1992, at the home of Sir Christopher Mallaby, the British ambassador to Germany, where Kelly works as a governess. One evening dinner guests are Elizabeth and Prince Philip. The two royals exchange a few words with the 24-year-old and ask her who the embassy guests of the following weeks would be. Obedient to protocol and the privacy of her employers, Angela invoked the Official Secrets Act and refused to answer, leaving the queen and the Duke of Edinburgh stunned. The following year Kelly, who has since returned to Britain, is offered a position as assistant to Her Majesty's personal dresser, who, mindful of the girl's loyalty to duty and uprightness, wants her on her staff. The rest is a 30-year-long story of confidences, chatter, laughter, hours spent in front of their favorite TV series (Coronation Street) and lots of fashion.
Together the two friends build a multi-hued wardrobe, of which the emerald green and sky blue outfits sported by Elizabeth during her jubilee were just two of many memorable pieces. How is a queen's look constructed and what secrets does it hold? Kelly revealed it in two books written with the monarch's very rare bene placit. As we read we discover that Angela Kelly drew four sketches for each type of outfit and submitted them to the judgment of the queen, who decided which ones to make, preferably in practical and comfortable fabrics such as pure silk, chiffon, organza and tweed. She preferred to have dresses with three-quarter sleeves so as not to risk it ending up in the potage during a meal, zippers instead of buttons if the day's commitments required constant switching between inside and outside, and she had weights sewn into the hems to prevent them from lifting in the wind. The handbag she wore most often was from the British luxury brand Launer, which she owned by the hundreds, in different colors and types of leather, but all with a slightly longer handle than usual so she could hang it comfortably on her arm and wave to people; while shoes were custom-made by Anello & Davide with a 5cm heel, black or another neutral color, were first entrusted to Kelly who wore them to soften them. Among the must-have accessories in the royal wardrobe were pearls, hats and, on rainy days, a transparent umbrella (so that the queen would remain clearly visible) with a border that echoed the shades of her outfit.
The color choices of Elizabeth's dresses were also far from random. The hues had to be decided upon so that Her Majesty would be easily recognizable by both the escort service and her subjects, and they were decided upon according to seasonal criteria, including drawing inspiration from elements of nature such as seasonal flowers and plants. In spring, robes were tinged with the yellow of daffodils, the pink of cherry blossoms, the lilac of bluebells, and the cream of magnolias; in summer, delphiniums influenced the choices of blue and grass the green; in autumn, browns and oranges mimicked ripe fruits and foliage; and in winter, party colors such as gold, burgundy, or royal blue dominated. Black was reserved only for funerals and beige banned because it was hated by Elizabeth.