The style of the coolest moms of 2022
The evolution of maternity and its celebrities neo-mum's wardrobe essentials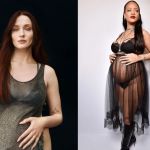 Motherhood, for those who desire it, is an important time in a woman's life. In addition to the physical change one goes through, the mental approach and sharing of one's body with the life you carry is a crucial phase of life. Above all, it marks a significant transition in terms of responsibility, and this can lead to reconsidering one's wardrobe with forced choices to be found in maternity departments, but the 9 coolest moms of 2022, from Rihanna to Gigi Hadid prove otherwise. Becoming a mom is an undoubtedly challenging act of love, but the sweet expectant period does not have to change your style and the way you dress. You can be fashionable even with a baby bump, as most moms who have flaunted the unusual accessory on red carpets or social media by wearing high-fashion outfits not usually seen on a mom, complicit with the social conception of possible danger to the baby that always leads public opinion to speak negatively about style choices outside the boring norm.
Rihanna
At the top post this year, the much-discussed as well as beloved Rihanna.The pop star engaged to rap celebrity Asap Rocky made her sweet expectation public on Instagram.. She has been spotted several times during fashion week, on the red carpets sporting outfits that can enhance and highlight her pregnancy shape, such as semi-transparent lingerie and no overly opaque or swathing garments. Rihanna showed off her sweet expectancy in all normalcy by defining a new maternity style, as a true Fashion Killa.
Kylie Jenner
She announced the expectation of her second child with rapper Travis Scott, through a video on instagram and during her pregnancy she 'used to wear very comfy, even semi-sheer jumpsuits and long trench coats, outfits with her belly exposed and breasts wrapped. Although Kylie Jenner has been very discreet in terms of web appearances, the littlest of the Kardashian clan has nonetheless helped to spread a super-cool maternity style that can enhance the physical forms that change with the changing body situation.
Adriana Lima
In third place, we find Adriana Lima. The former Victoria's Secret Angel announced the pregnancy of her third child in a video on Tik Tok. The supermodel has always taken care of her lifestyle, between sports and nutrition despite her three pregnancies. This time we even saw her on the catwalk with her baby bump: she appeared at the AW 2022 2023 fashion show of Alexander Wang, her great friend, wearing a minidress with a front porthole, long patent leather boots and red painted lips. Her belly is totally exposed, and the ease with which she rides the catwalk is mind-blowing. The supermodel, celebrates thus, the naturalness of the changing body waiting to welcome a new life.
Jennifer Lawrence
Another super cool new mom is Jennifer Lawrence. The Hollywood actress announced her first pregnancy at the same time as the release of the film Don't Look Up - which stars her and Leonardo di Caprio. The pregnancy was carried to term in February, and from Lawrence one can take a cue if one wants to have a more comfy and not so extravagant maternity style. She was repeatedly photographed in floral-patterned dungarees or long polka-dot dresses. There has been no shortage of crazy elegance portraying her on the red carpet in a long gold dress at the aforementioned film premiere. Nothing too excessive or attention-grabbing. Then again, the actress is known to be super jealous of her privacy, which is why she exposed herself very little.
Ashley Graham
The same cannot be said for curvy model Ashley Graham, who has always used her body to convey messages of body positivity. She did this even during her first pregnancy with her son Isaac, and then for the twins she gave birth to very recently. Pregnancy milestones have been posted on social and depict Ashley wearing sheer, monogram-print mini-dresses or dresses with necklines on her belly that highlight the normal course of pregnancy and also the appearance, for this reason, of stretch marks on her belly, normalizing this "process" of aesthetic change. No shame, just love your body, with clothing that can show it.
Sophie Turner
The beautiful Sophie Turner also gave birth this year to her second son with Joe Jonas, her pregnancy was little shared on social media. The star of Game of Thrones and soon to be featured in the new Sky-branded series: Staircase, has been photographed out and about wearing simple jogging pants and tank top, or plain knit mini-dresses that are not overly tight. She also posed for a photo shoot on behalf of The Cut, portraying her in trench coats and lurex or semi-sheer minidresses that wrap around her baby bump. The latter seems almost the quintessential trend among pregnant celebrities.
Rosie Huntington-Whiteley
Among the celebrity moms of 2022, you certainly cannot miss super Rosie Huntington-Whiteley, who announced the arrival of her second son in September 202. The supermodel is used to wearing fitted plain dresses that enhance the natural shape of her expecting body, but also super minimal trench coats. What can be noticed for those who follow him on instagram is that her style, despite the pregnancy, is unchanged. The only change is in sizes, but in terms of outfits they are the same: capes, fitted jumpsuits and comfy trousers. Then again, who better than she can show us how to be sexy and charming even with a baby bump?
Jhene' Aiko
U.S. singer Jhene' Aiko companion of the famous American rapper Big Sean, is expecting her first child, and motherhood is shown on the social profiles of both of them portraying them naked with Big Sean caressing her baby bump with total ease that it is impossible not to fall in love. She wears long dresses that do not highlight her physical form, rather soft and therefore covering, unlike the aforementioned celebrities. We will see in the coming weeks, whether the choice of looks will be more whimsical or will continue to want to "keep to herself" the sweet expectation. Then again, they are still publicly exposed personalities, so everyone decides how they want to communicate or not, this delicate moment...
Gigi Hadid
Last but not least, we want to comment on Gigi Hadid's style after the unexpected announcement of her pregnancy with Zayn Malik. We would call it comfy and sexy, the supermodel has kept her distance from social media, and what little she has shown, depicts her with an obvious fondness for plaid or Ralph Lauren shirts, elastic pants under her belly, jogging trousers, and tight ribbed dresses. She even shot before the world lockdown, in unbuttoned jeans and an elastic bra, with a naturalness that has always distinguished her,almost as if her baby bump was absent. Immediately after her pregnancy, she stated in several publicly released interviews how little she cared about returning to a healthy weight, given the aesthetic standards of this world and her work.