Celebrities' favorite sunglasses trends
A functional yet fashion accessory: which kind do Kim K, Dua Lipa and Rosalìa wear?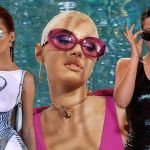 Sunglasses are essential for protection from UVA and UVB rays, but essential to accent any look. Whether they are exaggerated like Kim Kardashian's mirrored-lens ones, or colorful like Dua Lipa's, there is a pair for every personality. Evergreen styles continue to be all the rage when we think of cat-eye and aviator models, but the runways are veering toward more sophisticated and glam frames that borrow materials and aesthetic effects from the world of sports, especially the biker-core aesthetic. Exaggerated sizes to cover the whole face like Balenciaga shades are perhaps the real must-have of the season, although there is no shortage of Y2K reference and wide eyewear midway between influences reminiscent of a Paris Hilton with curvaceous shaped gradient lenses and viewers to enter the metaverse. What are the celebrities' favorite glasses for this summer 2022 and worth investing in for September?
Performance Sports
As happened with past winters between fashion and beauty gorp-core, now the new eyewear aesthetic borrows technical materials and ergonomic fits for maximum performance, like when speeding at high speed. The ultimate motomami, Rosalìa, is the first follower of the trend: at the Met Gala 2022 she downplayed a couture dress with a pair of Givenchy SS23 glasses designed by Matthew Williams. The Balenciaga Xpander, as well as Kim Kardashian and Alexa Demie's favorite sunglasses of the period, are also one of the most sought-after styles of the latest period, aided by Kim's cover for Sports Illustrated in June. However, Oakley's Biker Core style model is a great alternative to achieve the same hi-speed, impossible-to-miss effect.
Mediterrean Heritage
Clean, timeless lines remain the key to making any look elegant and contemporary, especially in wayfarer models that evoke the essence of the Mediterranean aesthetic. Like the eyewear from the L.G.R x @robedikappa_official collaboration, in which the heritage of the Robe di Kappa brand mixes with the craftsmanship precision of the Milan-based brand to create a genderless model to take on vacation. Tommy Hilfiger Eyewear's aviator style also has that vintage touch that never gets tired and elevates any look.
Visor Style
Tinted lenses are not enough, sunglasses today are an accessory that reconnects to a future that smacks of the present. In the dawning era of the metaverse, one of the trends is wearing sunglasses that look like visors. Wide models cover the face just like the tool to access virtual worlds created on the skeleton of innovative creativity, hiding even natural expressions. In addition to Kim K, Alexa Demie and Kali Uchis are also wearing them, especially at evening parties, for an even cooler touch that is also vaguely reminiscent of the width of 90s Carrera, with that urban touch that has always set them apart.
Pastel Pop
Beyond all these functional and glam-rock reinterpretations, there is still a craving for playful shades: the trend of thick and colorful frames rages on the beaches, where cat-eye models such as Chiara Ferragni Brand's CF7006 produced in collaboration with Safilo are the protagonists of shots to remind us of the beautiful season, also featured on the IG profile of the boss babe par excellence. Dua Lipa also loves the style full of color, as she wears her Gentlemonster model Deck in a green version.