Floria Fiorucci's Love Therapy: An All-Female Come Back
The three generations of Fiorucci women join forces to carry on with the "love therapy" project started by their brother, uncle, and great-uncle, Elio Fiorucci
"Love must be cultivated and you are happy only when you cultivate love," Floria Fiorucci tells me on speakerphone as she quotes the words of Antoine de Saint-Exupéry in The Little Prince while her daughter Marina and her niece Martina sit next to me. "It looks like a simple sentence but in reality, it holds a very important thought that is not so easy to apply because you have to be strong, altruistic and you must also be able to see and understand in order to do so." I'm here at the new Love Therapy offices in Porta Venezia. The brand was founded in 2003 by Milanese entrepreneur and fashion designer Elio Fiorucci and later relaunched in 2017 by his sister Floria a few years after his death. Stickers, pins and colored tin boxes scattered here and there, various knick-knacks that would make any avid collector envious, prints with pop patterns and archive photos hanging on a moodboard that extends on a single wall of the studio lead back to adolescence marked by an obsession with the Fiorucci era; the eclectic shops, the impeccable consistency and attention to detail carried out meticulously throughout packaging, branding, and graphics of clothes, objects and stationery, the compelling need of generations of Gen Xs and Millenials to belong to that lively and eccentric universe characterized by freedom of self-expression and the Warholian American Dream but the Made in Italy version.
In the early aughts, following the closing of the renowned Fiorucci boutique store in Galleria Passarella in San Babila and the previous sale of the family business, Elio and Floria launched Love Therapy, the happy-go-lucky brand widely recognized for its visual vocabulary made of hearts, gnomes, love quotes, and pop colors. Its iconic motto still reads today, "Love makes life magical", reveals Marina, creative director and coordinator for Love Therapy Kids & Homeware. "The name comes from the positive response received by various customers who described the Fiorucci store as a journey into a fantastic world full of joy, an overwhelming experience that changes you, a real love therapy," she adds. And it is precisely on this principle that Love Therapy's mission is yet grounded on nowadays: that of making life a better place through collections of garments and accessories that celebrate a message of peace, love, kindness, and respect for others, nature and animals. Not exactly such trivial values that ​​the founders themselves have tried to adopt as their MO long before the advent of social media platforms and popular virtue-signaling hashtags such as #loveislove and #bekind. "Love Therapy was born out of a personal transformation and spiritual revolution of Elio and Floria who, in those years, became vegetarians and sponsored the birth of Animal Amnesty Italia," cares to mention Martina, brand communication and project manager for Love Therapy. "I grew up around goats and I have the weirdest Italian grandmother ever because, as a vegetarian, she cooks me plant-based recipes instead of Lasagna."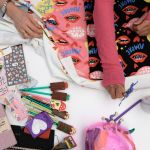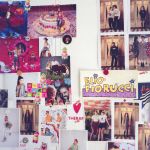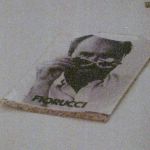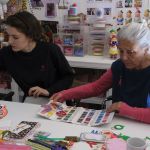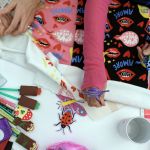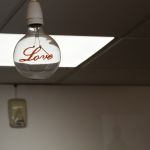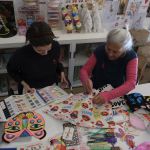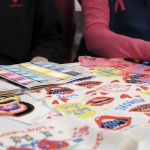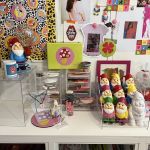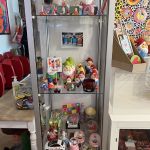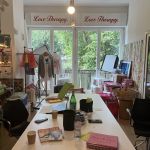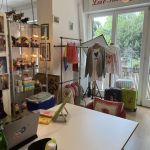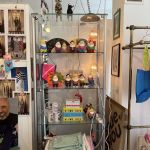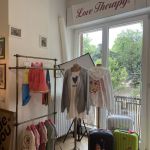 But the ethos that differentiates Love Therapy from other existing brands at present is not the result of pure exhibitionism and merciless "greenwashing," as Martina points out, rather of a genuine concern for sustainability and eco-friendly practices. "Compared to the Love Therapy from 2003, we currently produce limited collections for children and teenagers with the intent to protect the surrounding environment and to respect the work of our producers," she tells me. "We are not perfect," she is keen to note, "but we try our best from our small reality to communicate in an honest and transparent way all our efforts to produce more ethically and locally."
Along with Martina, her friend, right arm, and by now Fiorucci family member, Vittoria De Franceschini, is responsible for developing themed pop-up shops around Milan, which are envisioned to recreate the original concept store designed by Elio at the time of the late 1960s Fiorucci. Both he and his sister have always been passionate about research and thanks to their overseas travels, they have had the opportunity to enrich not only their cultural baggage but also their hold baggage, bringing extravagant and cosmopolitan objects and clothing back home with them to Italy. "I'm a researcher, a cool hunter," Floria Fiorucci defines herself. "In the past we used to travel a lot and we did a lot of scouting on site, now I do a lot of research on the internet and I meet and talk to people to pick up on new trends."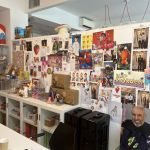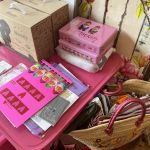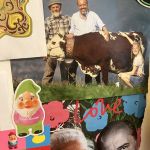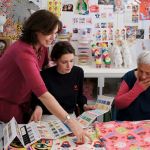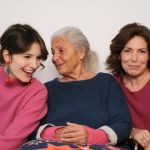 With Love Therapy's come back, there is Floria's will to celebrate her last sixty years of work beside her brother Elio and to remember the universally acknowledged language and imagery conceived together—those same words and icons that have left a profound mark on the consumers and their most unconscious desire for inclusivity and belonging to a modern lifestyle.
"Our future projects include that of expanding the Love Therapy brand not just in the apparel industry but also in the realms of home decor goods and accessories, keeping our focus on the upcycling of materials," Marina tells me. At the end of June they will launch a colorful collection of phone accessories with WOOD'D, while in September they will present on their new website a collection of upcycled products for pets and their owners and subsequently, an all-denim capsule collection—that fabric so dear to Elio and the Fiorucci family. "Fiorucci invented the fitted jeans by adding a small elastic fiber to the denim," Floria explains to me. "He created a pair of women's jeans that changed the history of fashion and he sold so many of them during his years in America, the motherland of jeans!"
When I interrogate myself on the possible causes that led Fiorucci to amass such an incredible success in the fashion business, Floria replies by stating that Elio liked to amaze people. But in the absence of love, the most important ingredient needed in the making of anything—really— Floria knows all too well how the Fiorucci-mania could not have possibly existed to the same extent it ultimately has. "Omnia vincit amor: et nos cedamus amori," Floria comments at one point during our interview. "Love always wins because it is a tremendous force that overcomes any obstacle. If you want to do something and you like it, you go beyond anything and everything." And what, if not Love Therapy, is the exact proof of that.