The most iconic celebrity courtroom outfits
From Winona Ryder in Marc Jacobs to Kim Kardashian as wannabe lawyer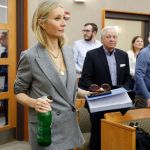 If you've watched Inventing Anna, the Netflix series about fake heiress Anna Delvey, you know that what a celebrity wears in a courtroom can be more important and get more attention than a red carpet. The scammer's outfits, from the Celine glasses to the black sweaters selected for her by stylist Anastasia Walker, have become a kind of statement so striking that they've even earned their own Instagram page called @annadelveycourtlooks, but fashion and court went together long before, ever since Winona Ryder showed up at her Marc Jacobs shoplifting trial. Since then making an impression on judge and jury, but also and above all on the media, with specially designed clothes and details has become an indispensable art for every star who has run into legal trouble. Who does not remember Lindsay Lohan walking proudly and smiling through walls of flashes before sitting in the dock, or Paris Hilton in a bon ton version trying to make people forget her wild past? The trial pitting Johnny Depp and Amber Heard against each other reminded us how much every little detail counts, from the jacket to the expression on their faces, from the make-up to the way they gesture.
That's why everyone is talking about how Heard decided to imitate her ex-husband's looks, offering viewers a riot of masculine suits and double-breasted shawl jackets. A strategic move to attract attention or simple public mockery of the actor? Perhaps both. The jacket, elegant and minimal, was also the choice of Kate Moss, who testified in recent days that Depp never pushed her down the stairs and to increase the credibility of her words, she left aside the more daring outfits. In a video link from England, the top spoke for less than ten minutes, always remaining very serious and showing off a carefully styled look, consisting of a $3,000 Saint Laurent tuxedo jacket, a blouse with an untied bow and very natural make-up. A perfect example of how to behave and what to wear to the court that too many stars have ignored in years past.
nssGclub picked out some of the celebrities' most iconic courtroom looks to review.
Winona Ryder
In 2002, Winona Ryder was convicted of theft after stealing $5,560.40 worth of clothes from Saks, including a $760 Marc Jacobs jumper from famous designers such as Gucci and Yves Saint Laurent. During the trial, the actress went for a good look, complete with a headband to discipline her hair. Hers was an ultra-chic wardrobe of midi skirts, schoolgirl jumpers, elegant dresses and subdued colors. At the court hearings, it was one dress in particular that made history: a black dress with pink inserts on the neck, wrists and waist, part of the 2001 Marc Jacobs collection. Winona was eventually sentenced to three years probation, 480 hours of community service and a $10,000 fine, but that trial was also the beginning of a collaboration with Jacobs. Ryder has been the face of the brand in four campaigns: SS03, FW15, Marc Jacobs Beauty 2016, pre-fall 2022.
Paris Hilton
In January 2007, Paris Hilton was sentenced for reckless driving to three years' probation, to attend alcohol education courses and to pay a $1,500 fine. Only a month after her sentence, however, the heiress got behind the wheel of her Bentley Continental GTC again, exceeding the speed limit, even though her license had been suspended. For this umpteenth offense, she ended up in court. The only card to try to impress the judge positively was to make her forget her glittery party girl mini-dresses and put on the role of the serious girl from a good family. Looking at pictures of Paris today with her headband on, grey striped jacket, white shirt, black waistcoat and trousers, Louboutins on her feet and Chanel bag, she looks almost like a public school student. The bon ton inspiration? Clearly Blair Waldorf. Despite her commitment, Paris was sentenced to 45 days in prison on 4 May 2007. Since then she has ended up in court several times, preferring to wear a series of elegant midi dresses in basic shades.
Naomi Campbell
Naomi has faced several trials, most of them to answer charges of violence against her employees, one of which, in 2007, ended with a week of community service to serve that the top model turned into her most original catwalk. Each day she served in the Big Apple's sanitation department, Campbell stepped out of a black van with an array of incredible outfits that included an Etro top, a Pologeorgis fur coat, a Knicks cap and a sequin-covered Dolce & Gabbana dress. When it comes to courtroom looks, the chicest was the knit dress with matching cardigan, both in cream, from Azzedine Alaïa's spring collection, chosen to testify in the 2010 war crimes trial against former Liberian President Charles Taylor. To complete the sixties style Campbell opted for minimal make-up, beehive hairdo and an evil eye pendant necklace around her neck.
Lindsay Lohan
Lindsay Lohan is perhaps the star who has spent the most time in court. Over the years she has sported many different looks to try to win the favor of judge and jury. She has opted for 1950s midi-dresses, skinny sheath dresses, cardigans in neutral tones, jackets with studded details, and power suits that give her a sober, professional and reliable air, ... The only strategy behind her choices seemed to be to talk good or talk bad, it doesn't matter, as long as you talk about it. Her most controversial fashion moment? When she went before the judge in 2010 for not attending alcohol education classes with a decidedly bold tie-dye manicure that read: "FUCK U".
Cardi B
There are those who rely on understatement to impress the court and then there is Cardi B. In 2019, the star had to respond to the accusations of two sisters who claimed they were attacked by the singer with bottles and chairs while working in a New York strip club and, for the occasion, she improvised a series of decidedly daring outfits. Looking at the shots, it looks like Cardi was ready for the front row of a fashion show: fur coats, wild fluorescent manicures, wigs and luxury garments. The three coolest? Brøgger's Gurli pantsuit for almost $2,000 paired with the customized hot pink Hermès Birkin; the $4790 pink power suit by Salvatore Ferragamo, paired with Christian Louboutin heels and a $7 snake print Chanel bag. 300 dollars; a set from Christian Siriano SS19 collection consisting of a sleeveless crepe dress with a high neck and asymmetrical slit and high-waisted, wide-leg crepe trousers, accessorized with clear Dior sunglasses, Hermès Birkin and Saint Laurent sandals. Back in court in 2023 to answer charges that she failed to complete her 15 days of community service as part of a plea deal stemming from the infamous strip club brawl she was involved in, Cardi B chose a total white look. The artist focused on the color typically associated with innocence and purity and wore an oversized fake fur by Adrienne Landau, a sleeveless dress by Aritzia, Louboutin heels and Christian Dior sunglasses.
Kim Kardashian
The power suit can be a real statement of intent. Kim Kardashian knows this well. In 2019, she visited the White House to announce the "Second Chance" charity program wearing an oversized forest green double-breasted blazer ($925) and matching high-waisted virgin wool trousers ($1,210) both by Vetements. All this paired with a nude bodysuit, pumps, black Indra sunglasses from her collaboration with Carolina Lemke ($90) and a very rare Hermès Kelly clutch bag in ombré lizard currently on sale for $69,775. In short, very lawyer chic.
Gwyneth Paltrow
To settle a matter related to a 2016 skiing accident, Gwyneth Paltrow chose a series of understated luxury dresses that were somewhat reminiscent of Shiv Roy's soft-power dressing from Succession. The actress and beauty guru appeared at a Utah courthouse with loose honey blonde hair, minimal makeup and a low-key, sophisticated look that some called "low-key rich bitch" consisting of a grey blazer with a fine ribbed knit top underneath and soft trousers; a black skirt paired with a cashmere collared button-down shirt and chunky boots by Prada; a cream G Label by Goop jumper and a Celine big bag on her arm. The outfit that went viral? The one from the first day: a €1,350 Parksville turtleneck jumper by Loro Piana, Jaka moss green wool coat by US brand The Row (€5,780 at Modesense), lace-up boots by Celine for €950, jewellery by G Label by Goop and Ray Ban aviator sunglasses.