The Motomami trend has just started its engines
From Rosalía to Kim Kardashian, from Chanel to Balmain, biker style makes everyone's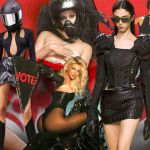 When Rkomi came on stage at Sanremo last February all dressed in leather (by Etro), including gloves, as if he had just parked his motorbike outside the Ariston, many of us were surprised. Then, a few months later, Rosalía's new album came out, with its rather evocative title and visuals: in the cover of Motomami, the singer is completely naked, except for her motorbike helmet, which has since become her favorite accessory, accompanying her everywhere, even to the afterparty at the Met Gala 2022. Add Bilt's biker jacket chosen for the record launch or the one Joe Rocket wore to Saturday Night, thigh-high boots, racer jumpsuit and suddenly that look started to seem interesting to us. We realized that it was turning into a trend thanks to Chanel, Balenciaga, Alexander McQueen, Alaïa and many other brands that have declined, each in their own way, biker fashion.
Fashion's passion for the biker style began in 1928 when the American manufacturer Schott NYC created the perfecto, the classic leather jacket with a side zip fastening, the same one that over the years has become part of our culture and we have elected as an essential of our wardrobe. From bikers to rockers the world over, led by the Ramones, who made it a sort of uniform, passing through the Black Panters and Warhol's Factory, it has come down to the present day. Post-war film stars like Marlon Brando turned it into an icon, the elective uniform for rebels, rockers and subcultures, from greasers to punks led by the Sex Pistols and Ramones. The promo to make it fashionable was Yves Saint Laurent in '60 for Dior, but since then many have tried their hand at the famous model. Do Vivienne Westwood and Jean Paul Gaultier ring a bell? In a continuous course and recurrence of the catwalks, we thus arrive at the latest collections, especially FW22. The one proposed in the latest is not the usual tough sexy girl image, sheathed in leather trousers and perfecto. Or at least not only.
The contemporary biker aesthetic has two main derivations. One is more pop, the offspring of Y2K fashion and Japanese anime or manga such as Akira, as we have seen at Diesel for example, where belted miniskirts were paired with cuissardes, quilted denim jackets and motorbike jackets. The second current opts for a softer approach, diluting the classic codes of those outfits with more romantic, dreamy elements as does Simone Rocha who mixes them with tulle and pearls or Saint Laurent who proposes oversized leather jackets to be worn over a slip dress. There is also a group of designers fascinated by the protective aspect of biker style that they develop while exploring the relationship between fashion and technology, such as Balmain and Dior. For FW22 Maria Grazia Chiuri entered into a partnership with D-Air Lab, an Italian start-up specializing in safety technology, which helped her create Tron-style catsuits, jackets and bustiers to match with opera gloves and ethereal long dresses.
It is not only fashion that is under the spell of bikers. The cinema has always shown the more reckless and cool side of its leading ladies. How can we forget Marianne Faithfull in The Girl On a Motorcycle, Pam Anderson in Barb Wire or Rooney mara in The girl with the dragon tattoo? And it's hard to say who is tougher on her bike between the legendary Trinity in The Matrix, Zoë Kravitz in The Batman and Charlize Theron in Mad Max: Fury Road, although the passion for two wheels also wins out over Angelina Jolie in Lara Croft Tomb Raider: The Cradle of Life, Gone in 60 seconds and in Salt. In Hackers Angie did not ride a motorbike, but her outfits, baggy trousers and leather tops look like something out of one of the latest fashion shows.
But if in the 1950s it was the cinema and its stars that marked the boom of biker mania, today it is Bella Hadid and other it-girls who are doing it. Taking a little inspiration from Y2K fashion (does Christina Aguilera in the Dirrty video arrive at the Ring on a motorbike, wearing shorts, biker jacket and a helmet graffitied with her name?) and a little from the latest collections, they have introduced leather, jackets, gloves, pseudo-protective trousers and boots into their streetstyle essentials. Kim Kardashian sitting in the Balenciaga front row sheathed in black leather as if she were Catwoman and wearing a helmet on her head on Sport Illustrated or Kendall Jenner clutching her Le Cagole as if it were the most precious of treasures dictate the style rules for the coming months, inspiring many common girls as well. Just try typing #bikeraesthetic, #bikeraestheticgirl, #bikerstyle or #bikerjacket to see a flood of videos and tips on how to adopt the best styling to become a perfect Motomami girl.