GANNI and Juicy Couture is the new Gen Z uniform
Scandinavian DNA meets Los Angeles vibe
Never underestimate the power of loungewear. If almost a decade of celebrities in tracksuits and flip-flops and two years of pandemic haven't served to remind us of the importance of wearing comfortable, pretty clothes in and out of the home, GANNI and Juicy Couture will with their new collection. The two brands have joined forces to give a new, contemporary, sustainable twist to the chenille jumpsuit. The American company's iconic item comes in different shades, from classic black to blue-violet with rhinestone-covered details to brown with an allover logo, but above all, it is made from a mix of certified organic and pre-consumer recycled cotton and recycled polyester.
"The Juicy Couture velour tracksuit is such a strong symbol of the aughts aesthetic and draws on such a strong cultural reference. Being able to rework a Y2K classic of this caliber has been so much fun! And adding that, to be able to bring it back in a more responsible version is a total dream scenario. When I walk the streets of Copenhagen, it gives me so much energy and inspiration to see the new super stylish generation of Gen Zs who are playing with elements of the 00's style in such a personal and fresh way. I'm hoping that our tribute to the iconic tracksuits will be a fun styling piece that makes our community feel confident and fabulous."
Said about the collaboration Ditte Reffstrup, creative director at GANNI, before adding:
"When the opportunity came up, it immediately felt like the perfect match. Juicy is the epitome of west coast fabulousness and Ganni signifies the Scandi 2.0 way of dressing, full of contrasts and personality. I think there's an unexpectedness in the juxtaposition of the two brands that makes it work and it feels fun and fresh."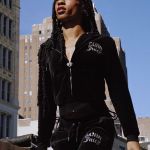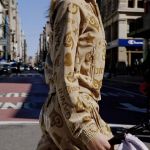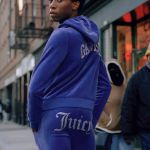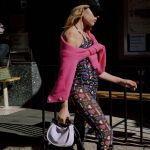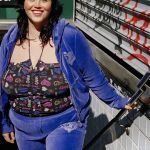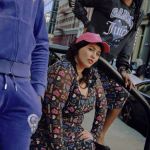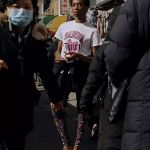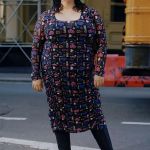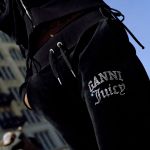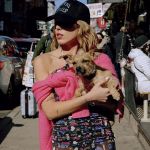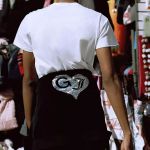 Redefining classic Scandinavian style may well be the basis for GANNI's partnership with Juicy Couture, as it was for the last Stockholm Fashion Week. The shows of established brands such as Filippa K, Stine Goya o Baum und Pferdgarten and emerging ones like Teurn Studios and CDLP are trying to update Scandi chic by experimenting with textures, proposing brighter, more pop colors and more body-hugging silhouettes to give a more sensual vision of sustainable fashion. The green soul remains a staple of Scandinavian clothing, which has always been made using low-impact, recycled and sustainable materials with environmental and social certifications.
The tracksuit, which entered early 2000s pop culture thanks to Paris Hilton and Britney Spears, is not the only star of GANNI's collaboration with Juicy Couture. The entire collection comprises a total of 13 pieces, including t-shirts, caps, dresses, tops and leggings, all featuring an aesthetic that combines the laid-back L.A. mood with the Scandi style and made from certified organic and recycled materials, like every item in GANNI's Responsibility Game Plan initiative.
The GANNI x Juicy Couture collection is available from Wednesday 30th March in GANNI shops, on the GANNI website and on the Juicy Couture website.