Emma Mackey, the rebel Maeve of 'Sex Education'
The actress conquered us with her looks on set and off the set
If you are also looking forward to the second season of Sex Education that will be live today on Netflix, you need to read this (don't worry, no spoiler!).
The web-tv series produced by Netflix is a teen comedy, focusing its narration around a group of teenagers discovering the world of sex, but it's not actually educational. The strength is in the fact that the series handles very deep and serious topics with the extreme lightness typical of entertainment comedies, and talks about sex in a fresh and ironic way, without exploring and analyzing further, with no real educational purpose. The characters are nearly stereotypes of teen comedies, but well-built and nuanced, each of them playing a specific role around the key topic of the whole series, sex. This is the perfect show to watch whenever you feel bored on a winter Sunday afternoon, to cheer yourself up.
We'll leave to you any judgement on the series, here we would like to talk about our muse of the month, one of the protagonists of Sex Education, the cool and sexy Maeve Wiley - played by the French-British actress Emma Mackey.
Maeve is a common teenager living a situation of discomfort: abandoned by her parents, handling a troubled relationship with her brother, she is not very sociable and she wears messy pink hair and a "punk" attitude.
In common with Emma, the character only has high cheekbones and a lovely pouty face even when she's smiling. Unlike Maeve, Emma grew up in France in a good family environment and then moved to the UK for her studies. The sharp personality of Maeve reflects in her "aggressive" look, made up of fishnets and leather jackets, nose piercing, smokey eyes and dyed hair.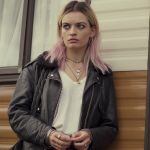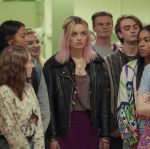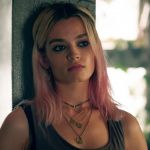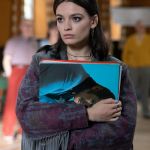 The beauty of Emma is
more sophisticated
. In her real-life, the actress has a sweet and more natural look: soft brown hair, basic nude make-up, and a mix of street-style and a
Parisienne
flair.
In her everyday life, Emma wears blazer jackets and colourful cords, usually paired with sneakers. Her hair is always neat and matched with simple make-up.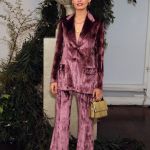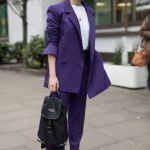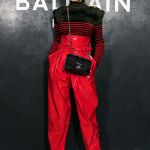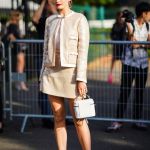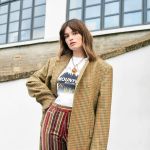 What do we expect from Maeve during the second season of Sex Education? We would like to see more of Emma's personality and style in the character of Maeve, still keeping her bitter sarcasm and bold identity of the coolest teenager of the show.
Not only teen comedies, but the star of Sex Education also has a lot going on in her career: in fact, she will appear in the movie Death on the Nile by Kenneth Branagh, the sequel of Murder on the Orient Express. She also got a role as the protagonist of the Irish thriller The Winter Lake and she will debut soon in French cinema with Eiffel.