What are the most hi-tech make-up and skincare products?
A review of the most high-tech pieces to add to your beauty routine
In the modern era, technology is revolutionizing nearly every aspect of our lives, and beauty is no exception. Besides showing us how we might have looked in a 90s American school yearbook trend that's taken over TikTok and Instagram, artificial intelligence has brought about significant and visible changes in the makeup and skincare industry. Thanks to advances in technology, we can now enhance our beauty routines in ways that were unimaginable just a few years ago. Forget about manual tools and "do-it-yourself" techniques, because today we are going to explore a range of incredible high-tech devices that can help you achieve radiant skin, flawless makeup, and an impeccable appearance. There's something for everyone looking to upgrade their beauty routine. In this article, we at NSS G-Club will take a closer look at some of the latest and most innovative technological tools and devices that are changing the way we take care of ourselves.
The Face Toning Device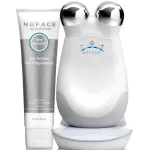 Meet the NuFACE Trinity, a true game-changer. Inside the package, you'll find a device for toning your face and a primer that preps your skin for the treatment. When used regularly, these two products promise smoother, lifted, and youthful-looking skin. The toning device is FDA-approved (which means it's been given the thumbs-up by a regulatory agency called the Food and Drug Administration) and has been clinically tested. It uses something called microcurrent, drawing inspiration from professional machines used for decades to treat the skin on both the face and body. These machines use Electrical Muscle Stimulation (EMS), and they're also widely used in rehabilitation centers for patients who might have limited movement, like those with broken limbs or paralysis. So, what does this microcurrent do for your face? It makes your cheekbones and cheeks look firmer and plumper. But it doesn't stop there. The device visibly tones the facial muscles, improving the overall shape of your face, evening out your skin's texture, and noticeably reducing fine lines and wrinkles. It's like a mini gym workout for your face!
The lipstick maker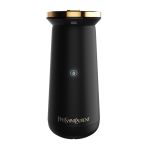 Yves Saint Laurent's Lipstick Maker is called the Rouge Sur Mesure Device, and it's an innovative technological device introduced by the renowned fashion and cosmetics house to offer a personalized experience in choosing and creating the perfect lipstick. This device is designed to help people find the ideal lipstick color that perfectly suits their skin tone, preference and style. The process starts with a photograph of the customer's face, which is captured by the device. Using an advanced algorithm and artificial intelligence, the Lipstick Maker analyzes the colors and tones present in the facial skin to recommend the most suitable lipstick shades. The customer can then further customize their choice, adjusting the intensity, shine, and texture of the lipstick. Once the customer has selected their desired options, the Lipstick Maker blends and produces the lipstick in real-time. The customized lipstick is then dispensed directly from the device, ready to be used. A perfect example of how technology is transforming the cosmetics industry, offering customers greater customization and a unique shopping experience in the beauty sector.
The 4-in-1 microdermoabrasion device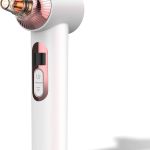 Clara is a personal 4-in-1 microdermabrasion device designed to exfoliate dead skin cells and suction blackheads and excess sebum, leaving the skin radiant and rejuvenated. For an additional beauty treatment, Clara also features an integrated hot/cold process and LED light therapy that stimulates collagen production and rejuvenates the skin. At the end of this process, you can remove blackheads without using your fingers, as your esthetician has always advised, and treat yourself to a real spa treatment at home. In summary, thanks to Clara, you can have cleaner skin in 3 minutes, unclogged pores, exfoliated dead cells, and no remaining blackheads. The now outdated adhesive strips are no longer needed.
The Skin-Analyzing Brush by HoMedics
HoMedics' Pureté+ Face Brush is a comprehensive system that analyzes the skin and builds a personalized skincare routine through the app. The device comes with three heads for cleansing, an exfoliation part, and a massage part: in just two minutes it ensures a complete and, most importantly, personalized treatment. By downloading the HoMedics Beauty app, you can measure your skin's hydration with the Skin Analyzer and receive advice on the best product for your skin. In the package, you'll find the rechargeable and waterproof Puretè Brush, so you can use it in the shower, three interchangeable heads for normal and sensitive skin, and a gel head. Finally, there's the incredibly useful Skin Analyzer, which measures skin hydration at the touch of a button.
Il massaggiatore di Foreo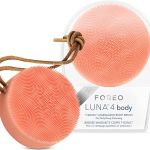 Foreo, a company advocating for a more technological beauty routine for years, shifts from the face to the body with the LUNA™4 Body, a massager with T-Sonic pulsations. Not only does delicate facial skin deserve attention, but body skin does too, and it requires targeted care. Foreo LUNA™ 4 body is a body massage device that frees the skin from 99.5% of dirt while simultaneously eliminating dead skin cells. Thanks to the flexible silicone head, it perfectly adapts to your body's curves and leaves the skin soft and smooth. What sets it apart is the highly hygienic soft silicone composition—up to 35 times more hygienic than nylon bristles—and a total of 8 levels of T-Sonic pulsation intensity, making its work highly effective.
ageLOC Boost from Nuskin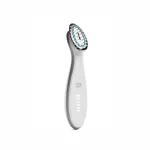 The ageLOC Boost System represents a revolution in skin beautification. It offers a brighter, firmer and more elastic appearance in just two minutes with noticeable results within a week. This innovative solution combines advanced ageLOC Boost Variable Pulsed Microcurrent Technology with the potent ingredients of Activating Serum, which work together to improve skin's radiance, tone and elasticity, while reducing blemishes and promoting a youthful appearance. Thanks to state-of-the-art technology and water lily extract, the ageLOC Boost System helps prolong skin's youthfulness, promote cell renewal and give you radiantly beautiful skin.
While the human touch remains irreplaceable, these technological tools promise to enhance the effectiveness and efficiency of our daily beauty routines. There has never been a better time to embrace innovation, so consider integrating some of these technological devices into your life and get ready to see and feel the difference: your beauty routine has never been this smart.