Why is the web against Ursula's make-up in the new movie "The Little Mermaid"?
It has to do with the low-quality result and the failure to pay homage to Divine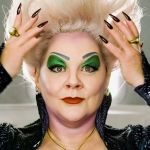 We are now almost at our destination. On 24 May, The Little Mermaid hits cinemas, the live-action version of the iconic 1989 animated film, with Halle Bailey, half-sister of music duo Chloe x Halle, taking on the role of Ariel. There is a lot of hype surrounding the project, not only because of the cast, but mostly because of the beauty. Fans of the industry can not wait to find out how the mermaidcore aesthetic that has been so popular in recent months will be portrayed on screen. Sometimes, however, expectations are dashed and unfortunately that's exactly what happened a few days ago when Disney released a time-lapse video showing Melissa McCarthy's beauty transformation into Ursula. The video sparked a number of negative social comments and unfavourable opinions about the make-up result, mostly coming from the LGBTQIA+ community. Many had hoped that the role of Sea Witch would be given to Lizzo or a queer POC persona, and when that did not happen, they had believed that at least on an aesthetic level, a spectacular job would be done that would best serve the anti-heroine's original inspiration, Divine, an icon of radical and provocative drag known to most as the muse of John Waters and the star of Pink Flamingos.
How did two seemingly distant worlds like Divine's and Disney's come together? The connection is a man named Howard Ashman. Andersen's original fairy tale did not include many details about the sea witch's appearance, so the directors and animators working on the animated film initially created several versions of Ursula, including one inspired by Joan Collins. The decisive breakthrough came with a sketch by animator Rob Minkoff that depicted an overweight vampire with a shark tail and a pink mohawk that everyone agreed looked a lot like Divine. It is at this point that Ashman's contribution becomes crucial. The playwright, who was both producer and writer of music and dialogue on The Little Mermaid with Alan Menken, was gay and, like Divine, from Baltimore. The two ran in the same circles, and Ashman appreciated Divine's sense of humour and exaggerated portrayal of female beauty. When he saw Ursula's sketches, he suggested that the resemblance to the drag queen be emphasised, not only in facial features and physical appearance, but also in make-up and movements. The result was the Ursula we all know and love: a strange creature with an octopus-like body in a shiny black dress, purple tentacles, bright red lipstick the same colour as her nail polish, striking eye shadow to accentuate her eyes, and tousled hair in a platinum, almost white shade.
Expectations were therefore to see in the film an even more explicit homage to Divine, the LGBTQIA+ community and drag queens with spectacular make-up, as we have come to expect from the show RuPaul's Drag Race. In short, something that would leave a lasting impression, as one might expect from a production with a budget of around $200 million. Instead, according to many involved with the live-action sea witch, it lacks both a proper representation of Ursula's original inspirations and the quality of the make-up. The making-of video revealed a great lack of creativity. Many have compared the make-up of McCarthy's face, with its asymmetrical eyebrows, one-dimensional eyeshadow and terrible contouring, to the amateur make-up one might find at a Halloween house party.
The lack of quality in Ursula's appearance confirmed the concerns many had about choosing a plus-size heterosexual actress for the role of Ursula. Some hoped that, given McCarthy's role, at least the make-up artist would belong to the queer community. In any case, this is no judgement on famed actress, aka Suki from Gilmore Girls, who was the first to acknowledge the importance of the role in a recent interview with Deadline, performing as a drag character in the 1990s: "I just hope to do every incredible drag queen proud and Divine proud. Just to give that same [attitude] "to give it your all, to throw it out there, no apologies, do it your way." I wanted to give [Divine] everything she was due."