Ever thought of trying the "McDonald's bangs"?
From TikTok comes the Happy Meal of hairstyles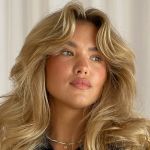 The latest beauty trend from TikTok is called "McDonald's bangs". No, do not worry, it has nothing to do with fries and burgers, but is inspired by the logo of the famous fast food chain. Created as a sort of alternative to the popular curtain pony, or a breezier and curvier version of it, it's super easy to recreate and suits any face. The reference is the fluffy 70s hair of influencer Matilda Djerf, who often plays with her blonde locks by showing off different hairstyles, but like many other girls at the moment seems to prefer the old-fashioned appeal of the M-shaped fringe.
Fringes that resemble those of the letter M are very easy and quick to make, as @oliviadaytonn shows on TikTok. Spray a texturising spray like Pantene Gold Series' Miracle Moisturising Detangler onto damp hair, backcomb the fringes with your hands or a brush, then pull them forward to create volume at the roots and recreate the signature look of McDonald's golden arches. To ensure the curls stay dry in this position, you can use two clips and secure each side. Et voila, the hairstyle is ready.
If you have more time, you can also achieve the same result with heat drying. Always start with damp hair and equip yourself with a round brush and a hairdryer or perhaps a Dyson Airwrap. Separate your fringes from the rest of your hair and wrap them around the brush. Dry the hair inwards and upwards, concentrating the heat on the roots. Then discipline the hair backwards with your fingers to perfect the McDonald shape, so that the fringes frame the sides of your face. You can add a spritz of hairspray if you like.