Hot glue for make-up, the latest absurd TikTok trend
Handle with care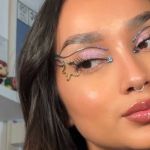 TikTok can be an inexhaustible source of creativity, a resource for learning about new beauty hacks and products, but often one stumbles upon absurd and potentially dangerous trends. In the latter category of curiosities falls #hotgluegunmakeup, a hashtag with nearly 15 million views that collects videos of makers using a hot glue gun to create makeup that combines futuristic vibes and Y2K influences. Yes, you read that right, this useful accessory for school projects and small DIY projects has now become a new favourite item in the trousseau for many TikTokers.
One of the first to experiment with the new beauty technique on the Chinese platform was Vanessa Funes aka @cutcreaser, when she posted a video in early March using a hot glue gun to create a metallic silver eye make-up, inspired by the work of 3D make-up artist Ines Alpha. The result immediately went viral and prompted many other creatives to copy her. Looking at Funes, it seems very easy to make up your face in this alternative way, but the process can turn out to be much more complex and potentially dangerous than it appears on social media. Anyone who has used a hot glue gun knows that you have to be careful with it and avoid touching the nozzle and the glue that comes out, as they are hot and can cause burns and redness. Even if you turn it into a beauty tool, you should never bring it near the skin, let alone the face or eye area.
So how do you do this kind of make-up? Spray the glue on a cardboard or stainless steel surface and let your imagination run wild by forming zigzag lines, squiggles, spirals or curves so that the glue comes off easily. Then you need to wait a few minutes until the glue is dry and cold. Often, especially if you are not familiar with the tool, the designs need to be meticulously cut and trimmed so that they appear symmetrical and match the facial structure or desired outcome. In the next step, colour the sticky scribbles with nail powder or eye shadow and dab the pigment with a make-up sponge. Now you have to apply the three-dimensional motifs to decorate the face. Of course, you do not use hot glue for this, but eyelash glue. Although no problems or accidents have occurred so far, you should remember that hardened glue can be annoying and unpleasant if applied incorrectly and that it is advisable to avoid the immediate area around the eye. In addition, people with sensitive skin should know that many of the ingredients in hot glue can be irritating.