Lady Gaga created the first kiss-proof lip gloss
TikTok loves it and what are you waiting for to try it out?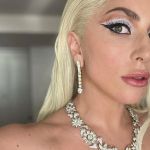 Imagine a lipstick that lasts all day, retains full colour and a glossy finish without leaving marks on any surface you put your lips on. It does not matter if you have been snogging with your partner for hours, eating an eight-course meal or nibbling on your nails. Your lipstick is always perfect. That sounds like a beauty miracle you'd trade all the other products in your makeup bag for, but instead there it is, it's made by Haus Labs, Lady Gaga's make up brand, and it's called Atomic Shake Lip Lacquer.
It's been on the market since July last year and it's almost impossible to find. Although it is available on the brand's official website, it is often sold out. This is thanks to TikTok, where the hashtag #hauslabsliplacquer has over 9 million views. The Chinese platform is full of videos where creators show off the lipstick's qualities, from luminosity to the vinyl effect that lasts without transferring despite eating or imprinting lips on a glass. And all this regardless of the colour worn and without the unpleasant sticky feeling that glosses usually give.
A look at the Haus Labs website reveals that Atomic Shake Lip Lacquer's "miracle" qualities are due to its special vegan and cruelty-free formulation, which promises a "highly effective liquid lipstick with a super-shiny, transfer-proof finish" Ingredients include algae extract, which gives lips a smoothed effect by nourishing and volumising them, and flexible, film-forming polymers that give a breathable, weightless feel, while Shine Boost technology provides a lacquer-like shine.
To demonstrate the durability and beautiful vinyl finish, Lady Gaga wore the product during her Chromatica Ball Tour and revealed some beauty hacks to keep in mind. First, shake it well until you feel the metal ball snap into place in the tube. Then, using the flat edge of the applicator or a flat brush, apply an even layer of lipstick to your lips. Make sure to separate the upper and lower lips and allow the product to dry for 10 to 15 seconds to work its magic. Et voila! Now you have kiss-proof lips that look tinted and highly glossy, as if they have been glossed over.

Haus Labs Atomic Shake Lip Lacquer is available on the brand's website in 6 intense and vibrant shades: Ruby Shine; Cherry Shine; Red Coral Shine; Rose Shine; Rosewood Shine and Sepia Shine. The price? 30,95€.