Sanremo 2023: the best beauty looks
Eyes with anthracite effect, velvet waves and glitter: the best beauty trends seen on the Ariston stage to copy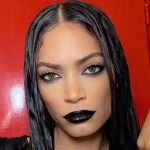 The 73rd edition of the Sanremo Festival had a little bit of everything. Inspiring speeches, Y2K moments, rock 'n roll moments, stolen kisses, some matter and important outfits. But what we often forget are the beauty looks. Mistakenly. Because they are as inspiring as a look and so easy to recreate that we feel a bit like ourselves on the Ariston stage. Between the popular singers, guests and co-hosts, it was difficult to put together our best-of. But in our opinion, what we copied at the NSS G-Club was not so much naturalness - we can recreate that every day, whenever we want - but rather eccentric darts like fresh eyes with asphalt effect, glitter details reminiscent of Instagram philtres, and hair with unusual waves. In short, at the Italian Song Festival, the desire to bring beauty back into fashion is strong. And we are here to give you a nice summary of all the scenic looks of the coolest protagonists.

Elodie's dark chic version
On closer inspection, Elodie would be so well suited to replace Cat Woman alongside Batman. The work MrDanielMakeup did on the singer's face, thanks to products exclusive to Sephora from Fenty Beauty to MakeupForever, was a four-night tale of dark-glam evolution for Due's actress. Boom gave us the first night with a full, wet-looking, vinyl cut-crease that adorned the singer's eyes with a winged shape. For the second night, the look became smokier but still glossy, and for the duet performance, she stunned with black lips, also vinyl. The grand finale: a shaded mouth, between berry and black. All this was completed by a barely tanned, glow skin and wet hair, interpreted by hairstylist Andrea Soriga between a sleek, tousled and a day-after chignon, depending on the outfit.


Chiara Ferragni's updo that will tempt you to go back for more
For Manuele Mameli, Chiara Ferragni's primetime look is all about being a strong woman. The look is enhanced by dazzling, catalytic make-up and the lips are barely accentuated by velvety lipsticks. But the attention was definitely on the cut, which Milan hairdresser Patti Bussa presented live on Instagram. She chose a wavy bob with extra voluminous tips for the influencer, which was worn to the side. On the last night of the festival, Chiara wore make-up from her eponymous line. The striking mouth in shades of red and the cat-like look thanks to XXL mascara were striking. The make-up was rounded off with nails painted first in shimmering nude and then in red by Passione Unghie.

The waves for your hair that Levante suggests we create
When Grazia Cassanelli, hair stylist at L'Oréal Professionnel, started the revolution on Levante's hair, creating a platinum blonde at the roots to match her bleached brows and fade into a ginger-peach cast, she must have already had clear ideas of what Levante's hair would look like today. And it was precisely her Velvet waves, luxurious yet relaxed, with a velvety, glassy effect, that captivated all the fans at the fair. The side braid, closed with a black velvet bow, is also already one of the hairstyles you should try this month. Topped off with make-up by make-up artist Valentina Raimondi using Clarins products, the look was romantic and luminous, from the pink eyeshadow to the eyeliner-lined wings and perfectly outlined deep red lips.

Instagram filters on Paola & Chiara's face made fashionable
The two sisters, who were at the peak of their careers in the early 2000s, could only bring Y2K make-up to the stage. And they did, putting themselves in the expert hands of the MAC Cosmetics team, who conjured up a veritable Glow Gap on their faces. Beautiful was the strobe effect on the first evening, thanks to the glitter that mimicked the sequins on the dresses. On the other nights, however, make-up artist Letizia Maestri wanted the duo to step back in time with peachy blush blended like contouring from cheeks to cheekbones and luscious lips. The whole thing was complemented by relaxed waves created by Marco Minunno with products from Bumble & Bumble. The grand finale was served to us like this: with a shaded, cut eyelid crease in shades of emerald green.
The refined and effortless style of Mara Sattei
It is often assumed that one has to overdo it to shine. But the singer, who is accompanied by a team of make-up artists from Giorgio Armani, immediately changes your mind. Her latest make-up, which has enchanted us, consists of a subtle, graphically shimmering eyeliner, somewhere between green and blue, reminiscent of a meeting of the sky and the sea. Her base is our favourite: a light matte finish that makes the skin glow. And its ultimate secret: the lipstick can be dabbed precisely onto the mouth with your fingers for a sophisticated colour effect.


La Rappresentate di Lista's pink hair and scarlet lips
Curated by Stephanie Glitter with products from Valentino Beauty, La Rappresentante di Lista's make-up look defies all definitions to let go of her identity and celebrate diversity. And nothing could have been better than lips with a glamorous grunge effect, thanks to the iconic Valentino Red in colour 502, to give Veronica's face a touch of radiance already provided by the candy pink lob. Dario, on the other hand, is all about the look, thanks to a smoky look reminiscent of rock stars.