The new way to put on eyeliner is to wash it off
An easy but potentially dangerous technique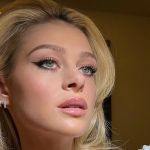 TikTok is the ultimate contemporary resource for anyone looking for some beauty hacks that can explain the best and easiest way to achieve contouring, give more definition to lashes or make foundation last longer. Many are really basic and intuitive, others very useful even for those who are not exactly MUAs with brushes and pigments, while a third falls into the category we might call unsolicited or potentially dangerous advice. In this set falls the latest method devised by the creators of the Chinese social to give eyeliner a perfectly smudged effect that is not too indie sleaze, but, instead, looks natural. What is it? Apply copious amounts of eyeliner and then wash it off.
The first to show it, within short video "Get ready with me" in which she prepares to go to a model casting, was Nykita Joy aka @neoitgirl. In the images, she is seen applying a generous amount of black eyeliner (Pat McGrath BLK Coffee) all over her eye contour, including the waterline. Then she stops, says, "Now, we wash our face," and walks out of the frame to return seconds later, not with black lines of makeup running down her chin as one would expect, but with perfect, subtle definition of the upper and lower lashline. "It's one of the best tricks," she assures. And, according to the number of views reaching 2.6 million and similar videos in which someone tries to replicate the technique, the hack is catching on as Jessica Clements also testifies. Influenced by Joy's results, the model and content creator tried her hand at this make-up hack, motivating her decision this way, "I was curious to see if it was something I would want to add to my routine, being someone who tends to wear makeup naturally." The only difference is that instead of Pat McGrath products, she used Hourglass's Voyeur Waterproof Gel Liner, which she recommends because it does not wash off completely and defines the eyes more without coming completely washed off.
Sometimes, however, you have to remember that all that glitters is not always gold. Not even on TikTok. Some eye care doctors have advised against trying the new beauty hack because "washing your eyes with eyeliner on can be very irritating to the ocular surface. Eyeliner debris can enter the tear film and front portion of the eye (cornea and conjunctiva) and cause eye redness, irritation, foreign body sensation, tearing discomfort, and possible infection." The only rinsing and washing should be when you are ready to remove the make-up completely.Then, go for products with intense black pigments and creamy textures that mimic traditional kajal such as Victoria Beckham's Satin Kajal liners or Estee Lauder's Smoke and Brighten Kajal liner. They are soft enough to blend, but long-lasting enough to last all day. Just apply the eyeliner first and then use the other side to blend in an up-and-down motion. If you want a look that is not too intense, but you don't want to run the risk of washing your face with eyeliner on, avoid the waterproof, transfer-proof formula or remove excess product with a balm or makeup removal solution such as micellar water.