How Emma Chamberlain landed a Lancôme deal
Identity and authenticity are the core values of L'Oréal new communication strategy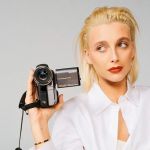 After exploding online during the pandemic thanks to her podcast, now exclusively on Spotify, Emma Chamberlain has signed a two-year contract with Lancôme. The creator, model, and founder of Chamberlain Coffee will star in beauty and make-up campaigns through 2024, and will direct a 4-part web series titled How do you say beauty in French, where the spontaneous, cinematic, and almost uncut style that characterizes her vlogs will land on the brand's channels in long-form video format but also in shorter pills for Instagram and TikTok sharing. Emma's eye and personality were chosen by the beauty brand to guide viewers behind the scenes of the Lancôme offices and explore Paris following the a new communication strategy created ad-hoc to appeal to Gen Z and renew the brand's feel.
«We weren't going to do an institutional campaign with Emma. What we're excited about is that people are saying, 'I didn't expect this from you,' and that's exciting"» said Françoise Lehmann, president of Lancôme International, told Françoise Lehmann, confirming the L'Oréal brand's shift toward pop culture. In fact, looking at the performance of the Asian market, it is influencers with well-defined ideals and values that appeal to the public because they are perceived as more real and close than celebrities. The L'Oréal group considered authenticity as a value and decided to replace it with the classic glossy approach of beauty campaigns, which no longer responds to the new generation of customers as the president confirms. Emma herself leveraged the sentiment of the new generations to launch a skincare brand with the evocative name Bad Habit, which best embodies the consideration of beauty as a cure for one's bad habits. In the statement released, the brand says it has three more new Global Ambassadors set to be unveiled in 2023, and given the recent choice, we already have a few names with social adherence in mind.
The breaking point from the classic beauty campaign aesthetic is the shoot that baptizes Emma a Global Ambassador. Unlike with recent blockbuster campaigns, such as La Vie est Belle with Julia Roberts appearing under the Eiffel Tower while gazing at the Seine, Emma appears from behind intent on watching a video of herself, disheveled and smiling immersed in a design setting communicating a new approach that responds to her character. «I have always had my own concept of beauty and never saw myself projected within the beauty industry because of the duality I express with my style, which mixes comfort with being groomed. Therefore, when Lancôme approached me, I was thrilled that the brand understood and appreciated who I am» says Emma, confirming that for Lancôme, too, it is the values of the faces the brand associates with that drive sales. The influencer's success is growing month by month thanks to the collaborations she makes with bonafide brands in fashion such as Louis Vuitton and Aritzia, and now also in beauty with the French brand, but it is her personal business ventures such as the previously mentioned Chamberlain Coffee and Bad Habit that make the 22-year-old now a rocking entrepreneur.