Eyebrowless looks to copy from Doja Cat
Watchword: dare while having fun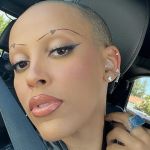 Last August, Doja Cat surprised her fans by celebrating her Grammy with a decidedly bold new look. The first step was to shave her head, a long-considered decision that the singer justified by explaining how uncomfortable she felt with her hair and in using wigs that when she played sports slipped and struggled to stick to her scalp. The next step she showed in an Instagram Live during which, armed with a pink heart-shaped mirror and a razor, she completely shaved her eyebrows.
The result is an alien and somewhat goth image, which Doja learned to make the most of, playing with make-up as if her face and head were a blank canvas. With eyeliner she drew a very thin arch reminiscent of the eyebrows of 1920s movie divas and actualized it by decorating it depending on the outfit or her mood with hearts, smiles, flowers, dots. At New York Fashion Week, with the help of make-up artist Laurel Charleston, the Kiss Me More hitmaker sported a series of extreme and fun beauty looks: from the Teletubbies-style look complete with orange head chosen to attend the presentation of Marni SS23 collection to the graphic total white seen at the Vogue World show, passing through the blue bubbles at the Bronx & Banco fashion show.
Doja Cat is just the latest of the many celebrities who have begun experimenting with eyebrows. Within months Kendall Jenner, Lady Gaga, Precious Lee, Hari Nef hatto opt for bleached brows. The trend has been seen often in the most recent fashion shows, remember Versace's models for FW22? Julia Fox and Kim Kardashian also had their brows bleached, the former by Pat McGrath, the latter for the September issue of Interview Magazine, with a look that seemed to pay homage to Chloë Sevigny in the 1997 film Gummo. Equally popular are the skinny brows, thin eyebrows returning from the 1990s and gaining more and more fans, such as Bella Hadid or Iris Law. Should we prepare to say goodbye forever to the bold brows that have dominated the last decade? Maybe so, but if you want to follow Doja Cat and shave yours altogether, our advice is to first try to eliminate them with makeup, copying one of the many online tutorials.