What are they and how to prepare spiritual baths gone viral on TikTok
A new challenge to recharge body and mind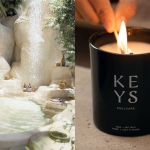 Over the last while, spiritual baths have been dominating our TikTok feed and may be just the perfect antidote to counteract the post-holiday blues. Petals, candles, flowers, herbs, and incense, Spiritual Baths have been used in many cultures to cleanse the soul, clear the mind, and ultimately heal the spirit. From ancient Greece to ancient India, from Egypt to Israel, to modern-day baptisms and more, throughout the ages it has in fact always been believed that a spiritual bath could help eliminate any physical or mental problem -- and, on TikTok, it certainly seems that millions of people have been inspired by the hashtag #spiritualbaths that has received over 29.9 million clicks, with @deesymone.com getting over a million views after revealing his favorite recipe for creating the ideal spiritual bath.
It's all about energy. The idea of a spiritual bath is to soak your body while meditating on a purpose. The best part of the spiritual bath is that you can really make it your own: from the ingredients you fill the bath with and the music you choose, to the scents of the candles and the specific purposes you choose to focus on.
PREPARE THE ENVIRONMENT
Set the sound with quiet music (Spotify has a great meditation playlist if you're stuck with inspiration). Light candles, which are the perfect way to set the spiritual mood in your bathroom. Then if you want to take it up a notch, try using a diffuser or incense, which have some fantastic aromatherapy benefits such as reducing anxiety, stress, depression, and headaches.
ADD CRYSTALS
Crystals are thought to help carry energy around our bodies, absorbing negative energy, moving blockages and transmitting positive energy. By placing crystals around the tub, you can harmonize the chakras and elevate your level of calm. If you are not familiar with the subject, try Amethyst, which offers an immune boost, helps with intuition, reduces negative energy influences and balances emotions.
GREEN LIGHT FOR THE LAST INGREDIENTS
As a final step, the girls on TikTok added Florida Water, a spiritual water designed to enhance the art of rituals, but the possibilities are endless. Dry skin? Add a few drops of melaleuca oil. Sensitive skin? Epsom salt or Himalayan salt help soften psoriasis-affected skin, relieve sunburn or help with bruises or sprains. Oily skin? Lemons can help. If you're feeling romantic, you can also add some rose petals, bay leaves, sage, mint and lavender, which help reduce stress, relax stiff muscles and help with digestive problems.
Ready to soak? nss G-Club has selected for you the 10 ad hoc products for the perfect spiritual bath: