Is Kylie Cosmetics losing popularity?
From lipkit's hype to lab videos recorded without any professional protections to attract attention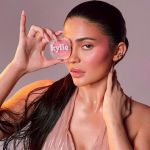 It seems like just yesterday that the hype for the lipkits of the girl with the most talked-about lips on Instagram finally became available in Europe, giving everyone the chance to go from a natural look to a "popped" effect with a simple swipe. Four years have actually passed since 2018, and Kylie Cosmetics has transformed from a highly sought-after brand online to one of many celebrity brands experiencing its flop era according to TikTok. The motivation could be from a mix of events that occurred in Kylie's life, but also the discontent of paying customers with her products communicated through video reviews. The remarks about the brand's flop made on the video platform might have been just personal opinions, but after seeing Kylie's latest post in which she herself is shown in Coty Inc.'s laboratories in Milan, Italy, intent on mixing powders and creating products, it is clear that an attempt to push on the brand's image is underway. It's too bad that even this attempt was done a bit sketchily, since testing products in the lab requires the right protections, such as a cap to collect hair, gloves and a mask, while Kylie Jenner wears in the videos only a lab coat and her nails of the month, as long and colorful as ever.
Thinking about the history of Kylie Cosmetics, a down moment seems natural. The launch of the first lip kits in 2016 was a success: the first drop produced by Seed Beauty sold out in 10 minutes, in February 2016 Kylie filed for the Kylie Cosmetics trademark and comes to turnover more than $300 million by the end of 2016 producing 500,000 lip kits according to Forbes. From 2016 to 2017, Kylie Cosmetics was all the rage on the web thanks to her super-cool public persona, living embodiment of the Instagram Baddie, and her camouflaged cosmetic makeovers, gossip, and sponsored posts paid thousands of dollars. Things began to change in late 2017 and 2018: the latest launches of Kylie Cosmetics did not excite viewers in the same way that lip kits did, and with the arrival of Fenty Beauty, the community moved toward the inclusive innovation of Rihanna's foundation shades, as market interests had naturally changed since the launch. The arrival of Coty, Inc. in 2019, which bought a 51 percent controlling stake in the company for $600 million, allowed Kylie to enter Europe in 2020 and expand her product range, but this would cause much discontent.
Kim's sister has been accused by customers of laundering her products, producing cheap brushes and reselling them at a much higher price than normal-the so-called Brush Gate-and following a business strategy in which the products are always the same, but the packaging changes. It has to be said that the Kardashians' business model goes by trial and error, and consists of opening brand names and attempting to break through in a product category-somewhat like Kim's KKW Fragrances and SKIMS-and then attempting a rebranding based on the very first response from the public and eventually shutting down if sales do not reach the expected results, a strategy also used for Kylie Swim, swimwear brand of the youngest of the Kardashians.
Kylie Cosmetics is a brand that lives off the same reputation that Kylie lives off, and it is only natural that with the events involving Travis Scott at Astro World she too has suffered a media shadow-ban. Her aesthetic also represents a moment in history long past, one in which Instagram Baddies were the role models to aspire to, and curated feeds, poses with outfits in front of the sunset, and show-offs of luxury handbags were still in vogue, before the arrival of Gen Z and photo-dumps. As with Glossier, the decline of Kylie Cosmetics comes from a failure to update products as the target audience ages, which should be buffered with a redefinition of the product range to go to accommodate members of the younger generation or move toward a more hybrid approach between skincare and make-up as millennials like. Although the attempt had already been made in 2021 with "a green and vegan approach," it was not enough for the millionaire to use her media ascendancy to lift the fortunes of her brand. While we wait for updates or new launches, we still hope that Kylie understands that selling beauty products requires being careful about wandering around labs with fake nails.