Rihanna keeps on expanding her empire with Fenty Hair
The enterpreneur follows beauty industry's trends towards the hair-care market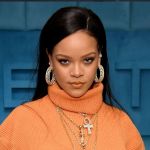 Forbes has declared her America's Youngest Self-Made Woman, but Rihanna is not standing still: according to documents viewed by Billboard, on Friday, July 15, the singer and entrepreneur's company, Roraj Trade, LLC, filed with the U.S. Patent and Trademark Office two applications to extend her Fenty Beauty trademark, Fenty Hair. Although we had heard about a hair beauty line from the new mother back in March 2021, when she filed the initial trademark, this recent development shows that Fenty Hair is indeed on the way.
Fenty Hair? Yup Rihanna definitely retired from music

— Ama K.
According to the filed documents, hair products will range from hair-care products to fashion accessories such as headbands, bows, clips, scrunchies, wigs including styling curlers, pins, brushes, combs and more. At first it was thought to be only shampoos, hair styling preparations, and, of course, hair glitter (Fairy Bomb Hair, do you copy?), but with this new brand comes a new set of potential products. According to the filing, Fenty Hair will consist of "a range of products, including hair elastics, barrettes, picks, bows, clips, pins, ribbons, scrunchies, nets, hair extensions, wigs and curlers." Rihanna may be one of the biggest pop stars in the world, but it is thanks to Fenty that she has been able to elevate her status by focusing on business ventures that have made her a billionaire.
Success began in 2017 with the Fenty Beauty make-up line thanks to its exhaustive range of foundation colors, the first to be truly inclusive with regard to shades and the different needs of skin types. Then came Savage x Fenty, which saw the concept of inclusivity and diversity also come to life in the form of lingerie, presented in real shows capable of going beyond the runway show to the level of showmanship, along the lines of Victoria's Secret in the 2000s, but with a completely different style. Fenty Skin, on the other hand, arrives in 2021, with international tours and campaigns where Rihanna is always the protagonist. The pop-star in all this has also given birth to a son and already returned to work.
In all this, the only "neglected" aspect of her activity is the musical one: her ANTIs, the fans who follow her everywhere and worship her as a deity, are annoyed by the six-year wait for a new album and at each launch of a new Robin line they feel a mixture of emotions, as confirmed by the funny comments on Twitter.
There is still no official date for the launch of Fenty Hair, but we are sure we won't have to wait long, while for the album, it looks like Fenty Home will come first, or even Fenty Baby, given the singer's switch of interest.