The innovative beauty technologies of L'Oréal Italia
A series of devices that elevate our beauty routine to a pro level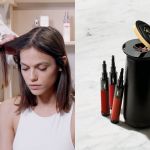 On 6 May, on the occasion of the Beauty Tech Day held during the Milan Beauty Week, the Cariplo Factory hosted an open talk by StartupItalia sponsored by L'Oréal Italia during which metaverse, NFT and big data were discussed with experts in the sector. The new technological devices presented by the company, tools that combine innovative first-to-market technologies and beauty, also played an important role in the event. Guive Balooch, head of L'Oréal's technology incubator, was there to illustrate the operation and quality of these devices, and accompanied L'Oréal in its evolution from world leader in the beauty sector to a technological player. One example? Balooch led the development of Makeup Genius, the world's first virtual make-up tester that has reached over 20 million downloads. He and his team, working with entrepreneurs, universities and experts in various fields, identify the most interesting research and the best technologies in order to offer consumers a range of affordable and easy-to-use tools and products that elevate their beauty routine to a professional level.
Here are the latest innovations from L'Oreal that have been developed to meet individual beauty and wellness needs: from Vichy's SkinConsult AI to L'Oréal Paris' Match My Shade.
SkinConsult AI by Vichy
15 years of skin research, in collaboration with dermatologists, and 10,000 catalogued images used to train machine learning algorithms have enabled Vichy to offer its consumers an easy way to determine the health of their skin and its ageing status. All in just a few moments and with results comparable to those of a live diagnosis by a dermatologist. All it takes is a simple selfie and SkinConsult AI is able to provide an analysis of the 7 different parameters that measure the skin's ageing status.
Screen by Lancôme
How often do we struggle with a wide range of products and don't know which one is right for us? Which cream or serum to buy? Lancôme's Screen is a high-tech skin analysis tool with an innovative combination of tri-polar light technology & advanced algorithms that perform an in-depth skin analysis with high precision to help us understand which products to add to our shopping list to follow the right skincare routine.
Match My Shade by L'Oréal Paris
Artificial intelligence has become one of the beauty industry's greatest allies. AI is also behind L'Oréal Paris' first virtual shade finder. Using it is very simple: just take a 360° selfie (in a well-lit room!). Just 10 seconds later the tool will reveal all the secrets of our skin tone and undertone, suggesting the best shade and two other possible alternatives.
YSL Rouge Sur Mesure
It looks like a simple and elegant black and gold Yves Saint Laurent Beauty trousse, but it is actually one of the gadgets that is revolutionising the way we think about DIY beauty. It is an avant-garde device that allows us to create personalised and smart lipsticks, creating unique shades that suit our complexion, our outfit or simply our mood of the moment. YSL Rouge Sur Mesure comes with three colour cartridges that are part of four different shade families in the YSL DNA: red, nude, orange and fuchsia. How does it work? Pair your phone with the app and, after a few digital trials, insert the cartridges inside, then the device will create the lipstick with the desired colour.
K Profile by Kérastase
As with skincare, finding the right product for our hair can be as arduous as searching for the Holy Grail. To help us, Kérastase's K Profile is an external device that identifies the right hair product for each individual. A micro-camera (which is actually a kind of microscope) is connected to a device such as a smartphone or tablet and a real real-time diagnosis of hair and skin conditions can be made. The next step is to decide on the best product or treatment to apply.