How to do Space Buns
Princess Leia's iconic double chignon in the famous George Lucas film "Star Wars"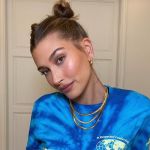 On 4 May we celebrate Star Wars Day, the day dedicated to the most famous galactic saga ever. And it is exactly on this occasion that we want to remember one of the most beloved female heroines of Star Wars, Princess Leia, and the first to wear space buns, followed later by Sailor Moon (those born in the 90s will surely remember them). With fashion always returning in cycles, the double chignon is back in the spotlight. Models such as Gigi Hadid, the beautiful actress Jennifer Lopez and the singer Justin Bieber, have been sporting them not only on their informal outings but also at special events, turning this hairstyle into a real must-have. But how to recreate it?
Step 1: Divide your hair in half
Dividing your hair in half vertically will allow you to create two equal sections. Using a bobby pin or a comb, you can then obtain two space buns of the same size.
Step 2: Fixing your hair
Take one half of the hair you have parted and, with the help of a comb or brush, bring it towards the top of your head, securing it with an elastic band. A trick? Backcomb your hair with the help of the brush to obtain more volume. The result will be a ponytail, which will serve as the base for your chignon. Do the same with the other strands of hair, making sure you don't forget any! You will need to obtain a ponytail that is the same as the other one, so that the double chignon is equivalent.
Step 3: Twist your hair
Grab the first of the two ponytails and twist it softly around itself, then wrap it around the elastic. In this way, you will obtain a small bun, similar to a doughnut, which you will have to fix with another elastic band or, if too evident, with hairpins. Do the same with the second ponytail, and voila!
Step 4: style them as you like!
For a more messy and jaunty effect, let a few strands fall out at the front to make the look even less serious! Another little tip: fix your double chignon with hairspray to make sure that your super hair style lasts all day!