Activism as told by Tik Tok beauty videos
Gen Z is using make-up to talk about war, feminism, sustainability and human rights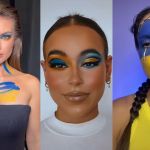 "Make-up isn't something completely superficial or apolitical. Throughout history, it's always been a powerful tool of expression".
Recalls Alex Maher creator of the popular educational series #DecadeChallenge, in which she uses make-up and fashion to trace the history of feminism in the 20th century.
In recent weeks, since Russian troops invaded Ukrainian soil on 28 February, social media have been taking on a crucial role in the narrative of the war and in particular Tik Tok. The Chinese app has become the most widely used platform for broadcasting real-time clips recounting the bombings, the horror and the new everyday life of the Ukrainian people in wartime (pov: you live in Ukraine), so much so that many have gone so far as to call the conflict "the first TikTok war". If the Ukrainian Gen Z kids have gone from sharing holiday pictures and outfits to documenting their typical day in the bunkers of Kiev, many other creators have decided to use make-up, often in the colors of the Ukrainian flag, yellow and blue, to show their solidarity and launch an appeal for peace. There was no in-depth historical analysis, no political dissertation or official position. Just some lipstick, eyeliner and eye shadow, all united by the hashtags #Ukraine makeup, o #makeup Ukraine, #pray for Ukraine and #makeup for peace. Just one simple request: peace. Perhaps trivial, perhaps a way to get more likes, but at the same time a powerful appeal because it is shared in the first person by millions of people.
The first to realize the denunciation potential of beauty videos on Tik Tok was Feroza Aziz in 2019, when suddenly, while showing how to curl eyelashes she said:
"Grab your lash curler, curl your lashes obviously, then … search up what's happening in China. They're getting concentration camps. This is another Holocaust, yet no one is talking about it."
A few simple and direct words spread on a Chinese-owned social network took on an explosive value and, even overcoming an attempt to censor the social network, became viral, going around the world and forcing people to talk about the repression of the Uighurs in China.
The beauty-activism combo gained even more credibility thanks to the many creators who took part in the #aocchallenge, bringing a breath of feminism to Tik Tok, simply by re-proposing the invectives to Congress patriarchy and misogyny made by Alexandria Ocasio Cortez while doing their make-up or braids.
TikTok started out as an entertainment app, full of videos of teenagers and pre-teens dancing and singing, and over time has turned into a cauldron of tutorials, fashion, beauty, food and challenges. In recent years, however, it has increasingly evolved into a sounding board for social issues, where the easy, immediate format and light language of the Chinese social network is the perfect ally for talking about subjects that are anything but frivolous: from the Black Lives Matter movement to the LGBTQI+ community, from feminism to toxic masculinity, from environmentalism to human rights, from inclusivity to bullying. "Tiktok's activism" is also through beauty videos. Gen Z has discovered the viral attention-grabbing power that lipstick and eye shadow have and has chosen to use it as an opportunity to express themselves on important topics in creative, thought-provoking or debate-opening ways, without seeming too complex or aggressive.