Rhode by Hailey Bieber will be released in June
Hailey Bieber keeps on teasing her new skincare brand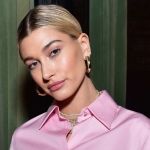 We've been waiting for the arrival of Rhode, Hailey Baldwin Bieber's beauty brand, since early 2021, but no official debut has been announced yet. These days, however, the model has shared a four-part post on her Instagram profile that looks like a preview of the first products to be launched. In the first three photos, which appear to be taken from a promotional shoot, Hailey poses in a nude-colored bikini by Are You Am I, showing off ultra glowy skin. In the third shot, she has also tagged @rhode, while the last one shows her relaxing with a face mask placed over eye patches. Will these be Mrs Bieber's first beauty items?
This for Hailey, who describes herself as a "skincare nerd" and is already the face of bareMinerals, is her fourth attempt to launch a beauty brand. The model had already tried to file two called Dew Beauty and Dewy Beauty and a third called Bieber Beauty that, unfortunately, was rejected in 2019 by the U.S. Patent & Trademark Office because Justin had a similar one dating back to 2010. According to news reports from TMZ about a year ago, she has already filed an official trademark for the brand that will sell "wellness merch, bath and shower products, beauty creams, personal cleaning products, cosmetics, makeup, fragrances, haircare, and skincare".
So far, the 24-year-old has not released any official communications about Rhode, although there are already over 59.9k followers on the beauty brand's official account. Details about the products and their release are scarce, but as we know Mrs Bieber's passion for makeup and creams we can assume that they will be green, with natural ingredients and there will be a wide selection of items dedicated to skincare, with moisturizing and soothing properties and focused on removing skin impurities. In many interviews, Hailey has revealed her beauty routine and in December 2020 she told BAZAAR.com that she had discovered the benefits of saltwater. Should we expect it to be among Rhode's signature ingredients? Maybe, but from a message she exchanged with a fan on her YouTube channel, we know that "Rhode has been in the works for a very long time, and it is getting so close. It is coming in 2022, and I am very excited".
Stay tuned to G-Club for future updates!