For Halloween, dress up like one of the protagonists of 'Euphoria'
A shopping guide to replicate the outfits worn during the Halloween episode
Euphoria is without a doubt the TV show of last year, and it's still in our hearts. The HBO Drake-produced teen drama starring the former Disney star Zendaya stood out not only for an unfiltered and unapologetic narration of today's teenagers but also for its beautiful aesthetic that is impossible to forget. Along with the outfits of the main characters, that reflect perfectly the style of contemporary teenagers through the use of brands such as Supreme and Stüssy, what strikes are the beauty looks designed by the make-up artist of the series, Doniella Davy, who drew inspiration from the Gen Z and its ability to challenge conventional beauty standards. The beauty looks of the female leads of the series have a much deeper and obscure meaning than it might seem, as we've described in detail here, and will definitely turn into one of the biggest inspirations for this year Halloween costumes.
For an even more accurate and spot on Euphoria look, your main inspiration should be the Halloween episode of the series, where the girls flaunt unexpected looks taking a cue from movies and celebs of the past, often forgotten or hardly identifiable. That's why we've scanned the Halloween looks of Rue, Jules and all the other girls adding moreover a useful shopping guide to replicate their looks.
RUE and JULES as ROMEO + JULIET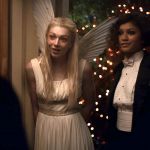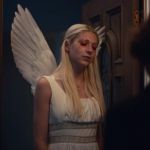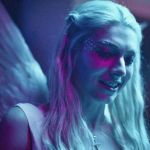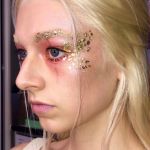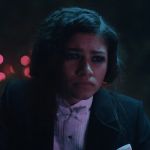 No, Jules was not just an angel: her costume was actually supposed to represent the character of Juliet as interpreted by Claire Danes in the 1997 movie directed by Baz Lurhmann. Rue takes the role of Leonardo DiCaprio, this time in a revisited and reinterpreted version, without a knight armour, but with a very masculine and elegant tuxedo, in contrast with the glittering beauty look flaunted by Zendaya.
Outfit: for Jules, a total white look with a long dress and angel wings. For Rue, a black tuxedo (blazer jacket and black pants) worn with a white shirt and a bow tie.
Beauty look: for Jules, black mascara, a handful of gold glitter on the eyebrows and a few rhinestones on the temples. Hair down, slightly wavy and a number of small braids on the sides. For Rue, black eyeshadow and lots of silver glitter on the eye area and on the eyelid. The hair parted in the middle is then tied in a low bun.
KAT as THANA from MS. 45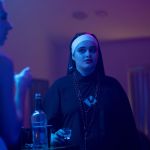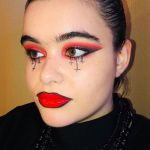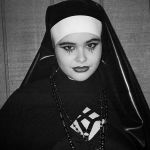 Not just any nun, but the main character of the 1981 movie Ms. 45 which is considered a cult film in the rape and revenge strand. The protagonist is a young sewer who is raped twice within just a few hours who therefore turns into a revenger who want to kill all the men that try to approach womankind. The costume recalls in detail the scene in which the actress goes to a Halloween party, dressed as a nun while holding a gun.
Outfit: a latex headpiece and a black tunic.
Beauty look: a red eyeshadows palette to create a smokey eye effect, black eyeliner and mascara and small glitter cross on the chicks. On the mouth, a black lip pencil to define the lip contour and red lipstick.
MADDY as IRIS from TAXI DRIVER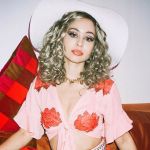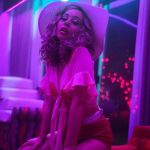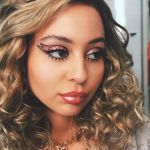 For her costume, Maddy tackles a controversial character, that nevertheless was able to enter the history of cinema. Iris is the 12-year-old prostitute played by Jodie Foster in the 1976 masterpiece Taxi Driver.
Outfit: western hat, a knotted flower printed shirt and pink shorts.
Beauty look: blonde curly hair, black eyeliner forming a flame, lashes highlighted with a black kajal and of course lots of glitter and rhinestones on the eyes. On the lips, red lipstick.
CASSIE as ALABAMA WORLEY from TRUE ROMANCE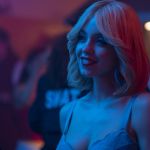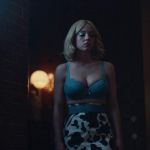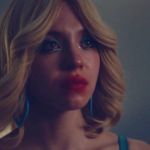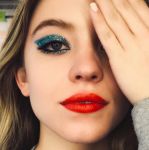 In this case, the reference is quite obscure. Cassie draws inspiration from the 1993 Tony Scott directed movie starring Patricia Arquette that sees moreover the presence of a star-studded cast with the likes of Brad Pitt, Val Kilmer, Gary Oldman and Christopher Walken. Alabama Worley is a prostitute who falls in love with the nerdy shop assistant of a comic store who has a passion for Elvis. The film soon turns into a sentimental and violent movie, thanks also to the screenplay written by Quentin Tarantino.
Outfit: a lace bra and a printed miniskirt.
Beauty look: blonde bob, green glitter and black eyeliner on the eyes. On the lips, a bright red lipstick.
LEXI as BOB ROSS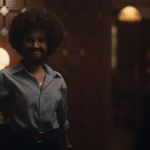 Even though he's not as popular in Italy, Bob Ross is legendary in the US: painter and artist, he's the mind behind the well-known tv show The Joy of Painting which aired between 1983 and 1994. Despite his death, his popularity has remained unchanged: he has a YouTube channel with more than 3 million subscribers, hundreds of videos with thousands of views and he's considered the king of Asmr videos, those visuals that cause a sensorial reaction to tactile and auditory impulses, like the sound of nails on the glass or the sound of a voice whispering.
Outfit: a long beard and an Afro hairdo, halfway between a hippie and a classic man, a light blue shirt and jeans with a belt. Last but not least, aviator glasses.
Beauty look: all you need is a bit of foundation for the base.