Lady Gaga debuts her make-up line
Haus Laboratories will be on sale on Amazon starting September
The rumours started a few months ago, but the official announcement came only in the last hours: Lady Gaga is about to make her debut in the world of beauty with a line of make-up called Haus Laboratories.
The products are inspired by the early years of her career when the singer personally created her own looks, glamorous armours to mask her insecurities, as told by the star explaining the decision to embark on this new business adventure:
When I was young, I never felt beautiful. And as I struggled to find a sense of both inner and outer beauty, I discovered the power of makeup. I remember watching my mother put her makeup on every morning, basking in the glow of her power to put on her bravest face as the hard working woman she was. I then began to experiment with makeup as a way to make my dreams of being as strong as my mother become true. It was then that I invented Lady Gaga. I found the superhero within me by looking in the mirror and seeing who I wanted to be. Sometimes beauty doesn't come naturally from within. But I'm so grateful that makeup inspired a bravery in me I didn't know I had. I've come to accept that I discovered my beauty by having the ability to invent myself and transform. They said I was just weird, but really, I was just Born This Way.
Self-acceptance and inclusiveness are the basis of Haus Laboratories which, also, for this reason, will be the first beauty brand launched exclusively on Amazon. The e-commerce giant plans to launch Lady Gaga kits simultaneously in nine countries in three different continents, including the United States, France and Germany, where customers will be able to take advantage of one-day and two-day shipping. According to Business of Fashion, the first products of the new brand will be "multi-purpose colour items for cheeks, eyes and lips in six families of shades and kits containing all three products at the relatively affordable price of $49", available from September. Miss Germanotta then announced via Twitter that pre-orders for Haus Laboratories will be possible from next July 15.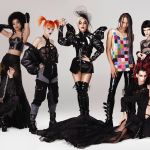 According to some rumours, Gaga's line could include cosmetics of all kinds, from makeup to skincare: foundation, lipsticks, illuminants and enamels, but also facial cleansers and perfumes. There are no official confirmations, but @hausbeautynews and @trendmood1 give us some clues, revealing what could be the video and the first images of the Haus Beauty advertising campaign that show the star with a natural complexion and a more elaborate make-up and full of glitter for the eyes.
Lady Gaga's line will be supported by Lightspeed Ventures Partners, who have also invested in Goop, the lifestyle brand owned by actress Gwyneth Paltrow. The protagonist of A Star is Born, in fact, is only the latest in a long list of celebrities to have entered the world of cosmetics. From Kim Kardashian with KKW Beauty to the empire of her sister Kylie Jenner with Kylie Cosmetics, from Rihanna with Fenty Beauty to Victoria Beckham with VBBeauty (which will debut in September as Haus Laboratories), from Hailey Baldwin with the failed Bieber Beauty project to the extraordinary case of blogger Emily Weiss with Glossier, capitalizing on beauty by creating a brand and perhaps an economic empire now seems a must in the career of contemporary stars.