WEmbrace Sport by art4sport ONLUS and Rilastil, together for a special event
The appointment is set for October 10, 2022, in Milan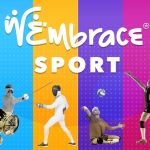 What if you put together the best Olympic and Paralympic athletes in fencing, basketball, soccer and volleyball? WEmbrace Sport is born, an evening event promoted by Rilastil, a leading brand in the dermocosmetic sector, and art4sport ONLUS, the Association of which Bebe Vio is the first testimonial and which was founded in 2009 by her and her parents. On Oct. 10, 2022, starting at 8 p.m., the Allianz Cloud in Milan will become the playing field of true integrated sports, on which the Italy team, comprising homegrown sports celebrities, will challenge as this year's big news International Stars, an international team made up of professionals from all over the world who have achieved important sports results.
Lodovica Comello and Gianluca Gazzoli, hosts of the event, will join Bebe Vio and a group of guests from the world of sports, music and entertainment to face each other in many exciting challenges under the banner of inclusion and sustainability. Fun and sports are, in fact, not the only purposes of the Oct. 10 evening, but are a way to celebrate and tell the stories of those who live with their diversity on a daily basis.
"I can't wait for Oct. 10 to be able to experience this second edition of WEmbrace Sport! This year we are having Italian Olympic and Paralympic champions compete against those from the rest of the world. The cool thing will be to see how, if you give everyone a chance to play on equal terms, the concept of disability goes away and what remains are professional athletes competing at the highest level. A real spectacle that is not enough to describe, you need to see. That is why I invite as many people as possible to come and watch the WEmbrace Sport challenges. You will have a great time and you will not regret it!"
If Bebe Vio says so you can believe it, the date with WEmbrace Sport is October 10, 2022, starting at 8 p.m., the Allianz Cloud in Milan. For more details click here.