The women who made their mark on the Ariston stage
From undisputed icons like Mia Martini and Raffaella Carrà to the Y2K of Paola and Chiara
In more than 70 years, the Sanremo Festival has reserved a marginal role for women, allowing a dozen to host it and just over 30 to win it. But it was women who decreed the success of Italy's most popular pop music competition: Nilla Pizzi inaugurated it, Mina determined its first iconic moments, Loredana Bertè shocked the audience with a fake baby bump, Anna Oxa showed us the meaning of the adjective "chameleon-like" associated for the first time with an Italian star. In more recent times, Carmen Consoli made Confusa e Felice a female motto for every moment of indecision, while Paola and Chiara brought international appeal to our own Y2K. Now that times have changed, that women are welcomed on stage as a symbol of determination and talent (except for a few unfortunate phrases by Amadeus that we have all in all been able to forgive), the female presence at the Ariston represented this year by a parterre de rois (or, in this case, de reines) that includes Chiara Ferragni, Francesca Fagnani, Paola Eognu and Chiara Francini, acquires a whole new importance.
Here, then, is a short list to go over stories of women whose art and style have left an indelible mark on the history of the Sanremo Festival.
Icons: Mia Martini, Romina Power, Raffaella Carrà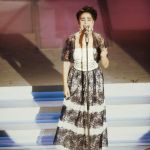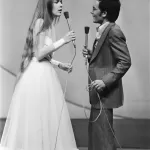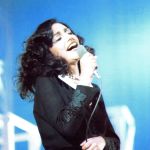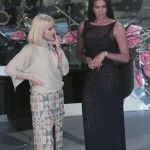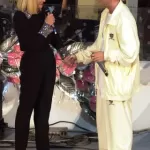 Few performers were able to convey emotion and enchant audiences with their voices like Mia Martini, who participated in the festival several times and became iconic in the 1960s with unforgettable looks, from the floral dress for La nevicata of 1956 to the black and white power suits for Gli uomini non cambiano. The most iconic moment? Mia taking centre stage and singing Almeno tu nell'universo in a polka-dot Armani evening gown and a pair of long black gloves, looking like Anita Ekberg in La Dolce Vita. Another singer who appeared on the Ariston stage several times between the 1980s and 1990s is Romina Power, both in partnership with her husband Al Bano, who sang popular national hits like Felicità or Nostalgia Canaglia in boho-chic twist outfits, and alone in the '75 edition. Her real talent besides his singing skills? She manages to always look impeccable, even when hiding under kilos of ruffles, poppy colours, gypsy skirts and a cascade of brown hair. Her best outfit, however, remains her white slip dress from 1984. It is impossible to overlook Raffaella Carrà, perhaps the real godmother of the Ariston, who introduced a new kind of sensuality with her blonde bob, exposed belly button, lamé and tight-fitting jumpsuits, which, together with her undeniable talent, led her to establish herself in 2001 as the festival's second female presenter after Loretta Goggi.
The chameleon girls: Patty Pravo, Loredana Bertè and Anna Oxa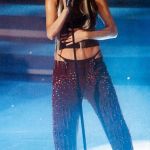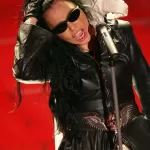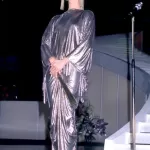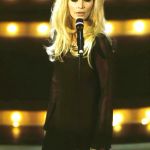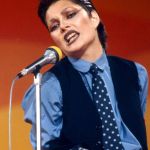 There are recognizable stars, divas who disdain the transience of fashions, and others who are like chameleons, changing skin with each project and returning to the stage completely renewed, both artistically and stylistically, even on the rigid and traditionalist Ariston stage. It is 1986 when Loredana Bertè chooses a black leather and studded mini dress by Gianni Versace for her debut at the festival. One detail attracts attention: a fake baby bump protrudes from under the fabric. The audience in the stalls blinked at this gesture, with which she wanted to support abortion rights and at the same time emphasise that 'a pregnant woman can dance, sing and be herself'. From then on, Loredana continued to proudly show off her legs, presenting crotchless miniskirts of all kinds, in jeans, velvet, tulle and ruffles. Anna Oxa's presence was equally striking: from her debut as a rebellious teenager with pixie cuts and punk outfits to her transformation into a sophisticated singer with an ethereal, almost algid image in cut-out dresses, jumpsuits, minimalist creations and glittering Versace gowns. Then, at the end of the millennium, the turning point with an outfit by Gucci by Tom Ford that went down in history: black top and vaguely country trousers studded with crystals and small fringes from which a black thong peeked out, bronze-coloured make-up, half-combed brown hair on which very light highlights stood out. Oxa in the wild version remains at least as iconic as Patty Pravo in the 1984 edition. The Venetian singer, who enters with Bambola, descends the theatre stairs like a modern geisha: an elaborate hairstyle by Marcello Casoni, a silver tunic by Gianni Versace and a matching fan in her hands. Her other memorable Sanremo style choices include the 1970 minimalist look, the 1997 skimpy suits, the 2011 pseudo-Hamish outfit and the 2019 fake dreadlocks.
The 90s girls: Carmen Consoli, Giorgia, Laura Pausini, Irene Grandi and Marina Rei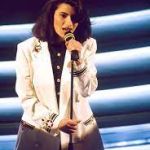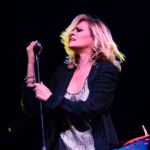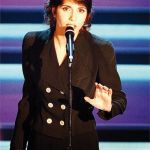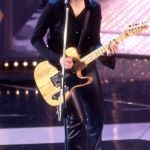 The 90s also arrived in Sanremo, but while grunge, Brit-pop, boy and girl bands were all the rage in the rest of the world, five women, each with her own sound, were destined to influence contemporary Italian music on the Ligurian Riviera. The first is Carmen Consoli: brunette bob, red lipstick, latex shirt and trousers, a southern riot girl with a proud look, a guitar in her arms and a song, Confusa e Felice, that was to become a radio hit. The second has blonde curls and an open smile, Irene Grandi with her soft mini dress, amphibians and muffs. Marina Rei, on the other hand, entered the stage barefoot, in a sheer blouse and jewelled belt. She immediately impressed with both her talent as a multi-instrumentalist and the look that Gen Z Y2K addicts should still emulate today: cropped top, wide trouser legs, fluffy frisée hair, ice eyeshadow and metallic purple lipstick. And finally there are Giorgia and Laura Pausini, powerful voices that make legions of teenagers sing, but their musical debut does not match their stylistic potential: they prefer tomboy cuts, little make-up, military-inspired jackets and outfits that do not show them off at all, and we'll have to wait a few more decades for them to shine.
Y2K fever: Elisa, Syria, Paola and Chiara, Alexia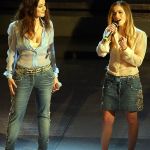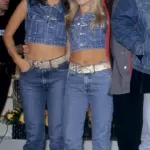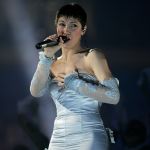 «I designed the clothes I wore on stage, all of them always and only white, because it was the colour of mourning in Chinese culture, which I was studying a lot at the time, and it represented for me the end of the love story I was talking about in the song», Elisa will often say this, remembering the gauzy top and white trousers she wore to perform her first hit in Italian, Luce (tramonti a nord est): she arrives smiling, shy and barefoot, and although the announced winner is called Giorgia, she surprises everyone and takes home the podium. The new millennium also marks the triumph of another outsider, Alexia, a dance wave with funky vibes, expressed in terms of look in zebra print, scarf, glitter or striped trousers and micro tops. A combination not too different from the one worn by the very young Paola and Chiara in black latex trousers and pastel shirts. It is impossible not to remember the two of them, dressed alike, sitting on high stools and looking into each other's eyes as they sang Amici come prima in unison. The Iezzi sisters are not yet the it-girls we will remember from the video of Vamos a bailar, but already in the late 90s they hint at their biting potential. The first outfit? A white minidress with 60s glamour, while for their 2001 performance they opted for an off-the-shoulder top and an ultra-short miniskirt with studs and a train.