The role of women in the sneaker game according to @sneakersbywomen
Is the sneaker world really inclusive?
If there is one credit to be attributed to 2020 it is that this year put everything in standby, giving us time and a precious opportunity to reflect. 2020 is the year when the debate on how important the female audience is within sneaker culture has become central, forcing the entire community and the market to think about solutions. Solutions sought over the years in the wrong way and sometimes completely avoided.
And if the question was "is a big-hype woman release - the one of Air Jordan 4 x Off-White - enough to recover from years of injustice and undisputed pink?" the answer was definitely no.
What sneakers enthusiasts need, as emerged from the third episode of The SneakerPod, is to receive the right recognition within the market and the sneaker community.
Therefore, if 2020 was the year that finally brought out the problem, 2021 could become the year in which think and seek the first and fundamental solutions.
Julia Lebosse decided to make her contribution by creating @sneakersbywomen, the Instagram account and Facebook community that celebrates women and their contribution within the sneaker industry. Julia told nss G-Club about her project in a mini interview. Enjoy!

Hi Julia, tell us about yourself and when you decided to create @sneakersbywomen.
I'm 18 years old, a French-Jamaican girl (I'll be 19 on January 20th!) currently in my first year of studying Fashion Buying with Marketing at De Montfort University in Leicester, UK. Besides footwear I used to be a competitive swimmer, and very much enjoy being active in my spare time. Since the first lockdown I've been walking/hiking almost everyday. Getting out into the fresh air is something that's helped keep me sane through these tough times.
I created the Instagram account Sneakers by Women seven months ago now in June of last year. I have had a love for footwear- particularly sneakers- since I can remember. So naturally I enjoyed researching and learning more on the designers, culture and storytelling of it all. Through doing this for many years it was evident that there is a much less female representation especially for black women in the sneaker world.
So I wanted to create a platform to support the incredible women in the industry. From designers to marketers, artists, sneaker collectors and more, it's a platform to amplify women's voices.
What are the difficulties you have to deal with in your sneaker journey?
The most difficult part of my sneaker journey has to be actually getting the sneakers. I've never had much luck with the SNKRS app or raffles. And as a student, paying resell is simply off the table. Although, there are so many gems that go unnoticed as they are deemed "not cool" or vintage sneakers on eBay or Depop that are the main bulk of my collection.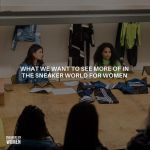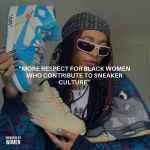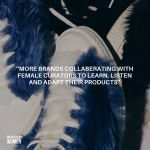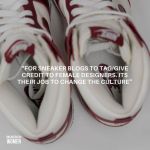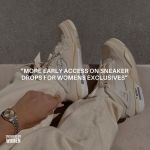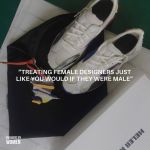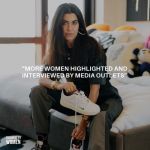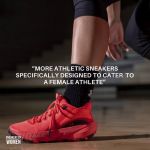 What are the topics that should be explored better when it comes to sneakers and women?
The biggest issue that needs to be explored is the lack of black women being seen and heard in the sneaker industry. They are being kept in the shadows even though black women are a huge part of the sneaker culture and community. It's about time we change that!
Do you think that a real change is happening in the sneakers' world to include the female audience? And what are the solutions for you to make the sneaker game more inclusive?
I do think that real change is happening. Recently Titi Finlay posted a quote that went viral stating that "We don't need women's exclusives. We need womens sizing". This is post spread like wildfire, as it's something many women could relate too. Later this was featured in a Highsnobiety article written by Lucy Thorpe, featuring many other great women in the industry with their thoughts and opinions on the subject. It was amazing to see this talked about and spread on a bigger scale. Finally women are being somewhat heard, I really hope this continues.
I think inclusive sizing is something that could really help, It's not just women that want mens colorway/silhouettes but the opposite too. I think there needs to be a new way of raffling sneakers, as bots are only getting more advanced and ruining the system. An idea I was thinking about, is for certain exclusive releases to introduce a series of questions to answer in order to buy them. The questions would be based on the history and story behind a sneaker. Making sure the sneakers get into the hands of true sneakerheads.
Which is your favorite sneaker and which sneakers, in your opinion, are particularly significant for the female sneaker culture?
Most people know my love for the New Balance 327 by now, as I won't shut up about it! But one I've want to pick up is the AMBUSH Nike Dunk in "Lethal Pink". Designed by Yoon Ahn the sneaker is inspired by Japanese bike, car, and truck culture, designed to look like the sneaker is moving. It's such a loud shoe but has such a similar look to my first ever pair of high top sneakers, so it would be cool to almost go back in time and rock them again.
This is something many seem to forget about. But almost 40 years ago, one of the most famous sneakers was the Reebok Freestyle. It was the first sneaker ever designed (by Angel Martinez) and marketed for women. This is an important part of the beginning of the history of women's sneakers, and should not be forgotten.